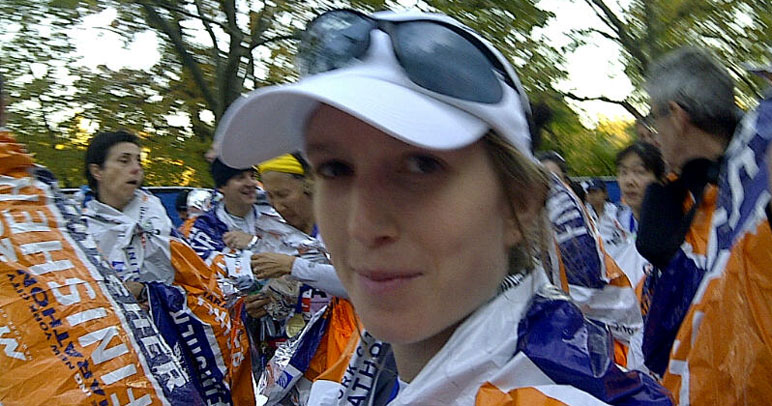 It wasn't my first marathon, nor was it my fastest, but the 2011 ING New York City Marathon certainly was memorable.

There is something about this five-borough marathon that envelopes the whole city -- not just its runners. Laughs, waves, smiles, sweat and tears can be found on both the streets and the sidewalks as a sea of runners charge borough by borough to the finish line.
The marathon is not just one day, but a series of events leading up to the final challenge on Nov. 6. Charity teams host their final send-off parties, friends and family gather for pasta dinners, and sponsors share their wares at the expo. The marathon's signature colors -- orange, blue and white -- appear on the subways, streets and even the Empire State Building.
I went into this marathon filled with nerves, wondering if I had prepared enough, worried I might not finish, but it turns out I had nothing to worry about. I simply had to trust my body and let the energy and excitement of the event do the rest.
As I started running across the Verrazano Bridge, "New York, New York" played and the steamboats blew their horns. Everything fell into place.
I experienced countless special moments, but five have replayed in my mind several times since the race. Each experience filled with me emotion and reminded me how lucky I was to be part of such an incredible, complex event.
First Wave Run Across Verrazano Bridge
While I was waiting at Fort Wadsworth, I heard a cannon go off and everyone around me started cheering. I looked up and the first wave of runners was crossing the bridge. We waved at the runners triumphantly starting their journey and they waved at us from their sky-high perch overlooking the city. At that moment I felt truly united with the runners around me. I hadn't even started running, but at that moment I felt my race begin.
First Cheering Fans on the Course
What sets New York City apart from other marathons is the tremendous number of spectators -- more than 2 million. I was overwhelmed by the innumerable high-fives and the people who screamed my name and held signs like they were my best friends. As I came off the 59th Street Bridge into Manhattan I was starting to feel the effects of the 16 miles and two inclines I had just run. For the first time, I started to worry about the miles ahead.
So, there was nothing quite as wonderful as when I saw my friends on First Avenue and 80th Street. As soon as I saw their faces, I forgot about all pain and fatigue. I waved hello and sprinted off as if I had just started.
The Soundtrack of the Marathon
The NYC Marathon required no iPod. More than 100 official bands and musicians lined the course and kept working the runners and the crowd. "New York, New York" is just the beginning. Along the run I heard "Pumped Up Kicks," "Empire State of Mind" and "Party Rock."
A vibrant Gospel Choir between miles 8 and 9 in Brooklyn took my breath away. The doors of the church were open and a choir of 20 people sang strongly and beautifully from the top of the steps. In front of them, the steps were packed with spectators and members of the congregations singing along. It was incredible to see how many different nationalities, ethnicity and religions were all brought together on this day.
The Asics Jumbo-tron
While I was at the expo, I stopped at an Asics station and found out that I could record a video message for another runner to see at an unspecified time along the course. My boyfriend and I decided to do it, each taping a five-second video for the other. It seemed pretty unlikely that when I passed a check-point the video would be triggered in time for me to see it, but it was worth a try. I scoured jumbo-trons in Brooklyn, Queens and Manhattan.
I didn't see a message for me, but watching others' messages was a nice distraction from the pain starting to set into my legs and feet. Then, as I was leaving the Bronx around mile 22, I saw a big screen right in front of me. Suddenly my boyfriend's smiling face appeared, and he clearly shouted my name, told me I was doing great and that he would see me at the finish.

I jumped and shouted and wished that I heard that he too had received my message. It was just what I needed to push through to the end.
My Name in The New York Times
When I ran the NYC Marathon in 2009, unbeknownst to me, The New York Times had changed the cut-off time for finishers to have their names in the paper from 5 hours to 4-hours-30-minutes. When I opened the paper to find my name and discovered this news, I was devastated. This time around I actually felt less pressure since running the marathon in under 4:30 was highly unlikely.
On Monday, I bought the paper just for the marathon section, and just for fun, flipped to the finisher names only to discover that once again all finishers under 5 hours were included! My name was there.

The greatest paper in the world confirmed that I had run the greatest marathon in the world.
Melissa is a NYC resident and workout junkie. She keeps motivated to stay fit and active by trying out new workout classes, signing up for races, and keeping an eye out for a fun fitness challenge. She hopes to complete the New York City Marathon for the second time in 2011. Read more about her healthy adventures in New York City at her blog fitnessnyc.wordpress.com.