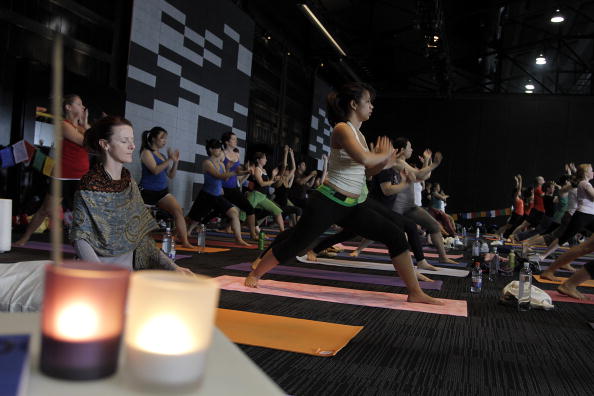 On Friday afternoon, a co-worker asks me what my plans are for the evening. Do I lie and say I am checking out a new bar with friends, or perhaps catching a late movie? Or do I admit that I plan to spend my night doing Midnight Yoga?

I'm always a little embarrassed to explain that I really enjoy the Midnight Yoga class at Laughing Lotus. It's not a typical Friday night-in-the-city activity, and because I only take yoga occasionally, an intense two-hour vinyasa class with chanting and inversions doesn't seem like it would be my thing.

But Midnight Yoga and the Laughing Lotus Studio have really won my heart.

The studio is small but charming. Its brightly painted walls are lined with rosy lights, a friendly reception desk, a small bookshop, and complimentary cookies and tea. The Midnight Yoga class is always accompanied by great live music and an upbeat crowd -- yes, crowd. So don't worry about being the only one going to yoga class on a Friday night. You might even be asked to slide your mat over to make room for your neighbors.

The mood is set with dimmed lights, a few candles, and the beat of a live band set up in the front corner. The class starts off with some chanting, and even though I'm not a big chanter, I get pulled right into it once I find my flow. The class moves quickly through a powerful series of sun salutations paced to the music, and all my stress from the workweek melts away to be replaced by positive energy.

One of my favorite things about the class is that the poses are held just long enough for me to start feeling the burn, but not long enough to make me rethink my Friday night plans. Typically, a session will end with a few partnered exercises and several inversions. The class caters to all levels, so even if I haven't taken a class in months, I'm able to find variations that work for me (I find this key to appreciating a yoga practice and not being frustrated that I can't balance all my weight on my elbows). The class is just challenging enough to be a good fast-paced workout, while also being fun at the same time.

I always keep Midnight Yoga in my back pocket for nights that I don't have any other plans or when I really need a rejuvenating start to my weekend. And when you think about it, a scene of dim lights, a crowded room, live music and a $17 cover is really not so far off from the typical Friday night scene.

Laughing Lotus is located at 59 West 19th Street. The midnight yoga class takes place every Friday from 10 p.m. to midnight.
Melissa is a NYC resident and workout junkie. She keeps motivated to stay fit and active by trying out new workout classes, signing up for races, and keeping an eye out for a fun fitness challenge. She hopes to complete the New York City Marathon for the second time in 2011. Read more about her healthy adventures in New York City at her blog fitnessnyc.wordpress.com.