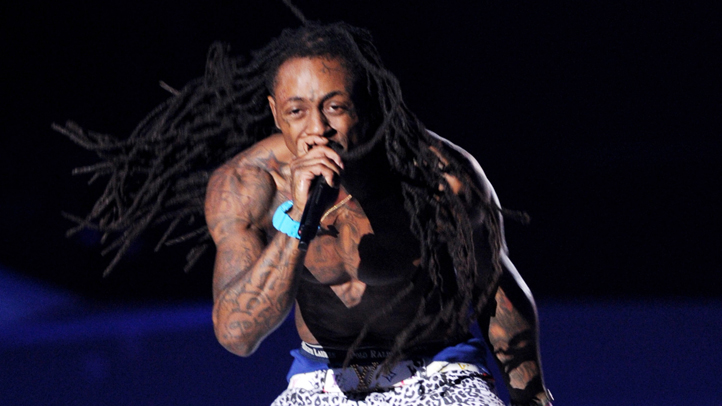 Taking the phrase "No Days Off" to heart, rappers the world over spent the day yesterday uploading their mixtapes to the Internet while the rest of us were out there enjoying our day off. The three most notable ones spanned disparate rap styles, but they're all worth downloading for different reasons. Check out our breakdown of the tapes and the best songs below.
Lil Wayne, Dedication 4
Though Lil Wayne has been a popular professional rapper since he was 13, he transformed from a very good regional rapper to a near-ubiquitous pop-culture force through the power of the Internet, releasing mixtape after mixtape, recycling beats and making his versions of already-popular songs even better than the originals. Even though he's one of the most popular rappers out, he still remembers his roots, and it's always a treat when he revisits them. Many of his finest moments as a rapper came from the first two Dedication tapes with DJ Drama, and on the fourth installment of the series, he blows his recent album Tha Carter IV out of the water. This tape caused a stir when Nicki Minaj rapped, "I'm a Republican voting for Mitt Romney, you lazy b----es is f---ing up the econon'my" on their version of Kanye West's "Mercy." Allow us to take a moment to debunk the myriad blog posts that took the line out of context and made it seem like a Romney endorsement. She's using the Romney nod to joke about how rich she is, not to say that she's actually going to vote for him. It's a funny joke, but nothing more.
Highlights: "Mercy," "Cashed Out," "No Lie"
Download at LiveMixtapes.
Gunplay, 601 & Snort
Aligned with Rick Ross' Maybach Music crew, Gunplay has become a better and better rapper throughout his career, carving out a niche as a deliriously drugged-out thug, his raps becoming more and more psychedelic as his flows become harder and harder. 601 & Snort may very well be the strongest set of songs of his career, the rapper becoming almost the second coming of Busta Rhymes, a dreadlocked goofball rapping deviously and furiously over minimalist beats that give him real estate to stretch out or compress his madcap flow as he sees fit. The highlight of the tape is when he teams up with Trina and Tip Drill to recreate Trick Daddy's Trina-featuring classic "Na N---a," one of the best tracks his hometown of Miami ever produced. Rappers like Gunplay are proving the distinction between "mainstream" and "indie" is total nonsense, as in the last year he's made tracks with Ross, Kendrick Lamar as well as A$AP Mob.
Highlights: "Na N---a," "Take It Off Freestyle," "Real N---as (f. Rick Ross)"
Download at LiveMixtapes.
Talib Kweli and Z-Trip, Attack The Block
With all the good rappers who have emerged in the recent years, it's hard to remember that lots and lots of them owe more than a bit of debt to Talib Kweli, especially now that rap is collapsing that "lyrical/anti-lyrical" dichotomy requiring a rapper to either try to sound smart or give up on intelligence wholesale. People are finally understanding that good rappers don't necessarily have to say everything in order to get their point across. Instead, they can use intimation and vocal cadence to communicate a larger message. Kweli is still one of the smartest guys in hip-hop, but it sounds like he's having a lot more fun this time around. He's joined by a healthy dose of guests here, and this is probably the first time in recorded history that Das Racist, Lil Wayne and John Forte have ever appeared on the same project. Mixed by the legendary DJ Z-Trip, this is one of the most varied tapes in recent memory, one that mixes electro-crunk with lush, organic soul samples. It's Kweli's best work in years, and hip-hop is better for it.
Highlights: "Attack The Block!!!," "Celebrate (f. Lil Wayne and Mack Maine)," "I Like It (f. Das Racist)"
Download at DatPiff.