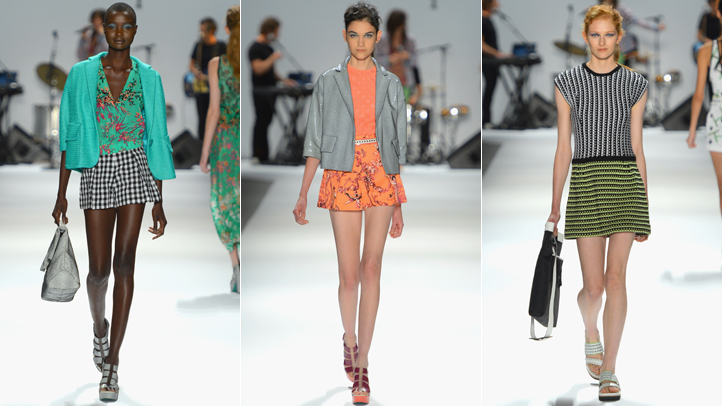 If it's true we can follow women's hemlines to determine how well the economy is doing, then the Nanette Lepore collection should give us all reason to celebrate.
The outspoken Obama/Biden supporter, who placed campaign buttons in every seat in every row, has certainly incorporated an element of change into this new season. Hemlines were down in Fall, when the tarot had girls in high-waisted trousers, full skirts and menswear-inspired suits. This season hemlines are so sky high they even manifested themselves in barely there one-piece swimsuits circa Pamela Anderson on "Baywatch," when lots of thigh and lots of cash was available.
Shorts were so short that even the models probably had to turn on a Jane Fonda tutorial before the final fitting for the show. With a mood so sexual thanks to a sensual live music performance by Brazilian Girls, it was altogether par for the course.
"The dresses look like they go from very hard to very soft, like the porcelain [at the Porcelain Room], having this virility and strength," Lepore told Thread NY backstage before the show. "I wanted to make sure it's about the strong women and that women go out and vote and have our rights. It's really about promoting strong women."
The clover-print maxi dress, checkered printed wrapdress, and net-print leather shorts and jackets were a nice addition to the beautiful pistachio color she played with. Front-row attendees Eddie Falco (who bopped to the music the entire time), Abigail Breslin and Jennifer Westfeldt seemed excited and ready to go shopping right away. (Stanley Tucci was also in-house). With hair and makeup that looked as get-up-and-go as the clothes, Lepore's spring is one of finding adventure in uninhibiting clothes and time well spent.
Related Stories:
PHOTOS Star Spotting on the Front Rows of Fashion Week
PHOTOS Best of New York Fashion Week
Nineties Urban Fashion Makes a Comeback at Jeremy Scott
VIDEO My New York: Mary Alice Stephenson (Fashion Week Edition)
VIDEO Catching up With "Project Runway" All Stars and Nanette Lepore