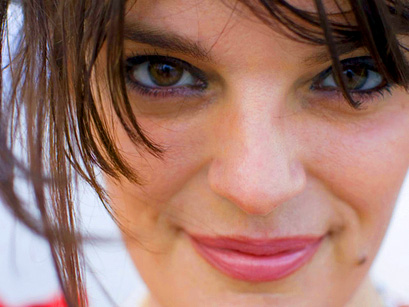 Heather Greene originally moved to Scotland to explore her heritage and work on her music, but pretty soon she became obsessed with whiskey. As one does.
Her just-out album "Sweet Otherwise" (Paved Earth Records) is introspective, electronic-tinged music which sounds like what you might get if you threw Dido, Elliott Smith and Massive Attack into a blender and hit "pulse." Not only did she write all the music for the album during her time in Scotland, she also found her way into Edinburgh's Scotch Malt Whisky Society, where she became the first American woman to be invited to serve on the tasting panel. That led to her being tapped for a position as a U.S. Glenfiddich Ambassador. Not bad.
The combo of thoughtful, intricate songwriting, smoky vocals and brown booze is sort of hard to resist. So you may want to get tickets for her show Whisky Song: An Evening of Music and Scotch, coming to Joe's Pub on December 8, when Heather will host an evening of intimate songcraft paired with a tasting of Scotland's finest whiskey.
Also, Paste Magazine's offering up her hushed, moody new single "Moon Hangs Fire" for freesies – you can grab it here.
Details
Heather Greene's Whisky Song: An Evening of Music and Scotch
December 8, 7:30 PM
Joe's Pub, 425 Lafayette Street; 212-539-8777
$12
More details and tickets at joespub.com
Copyright FREEL - NBC Local Media