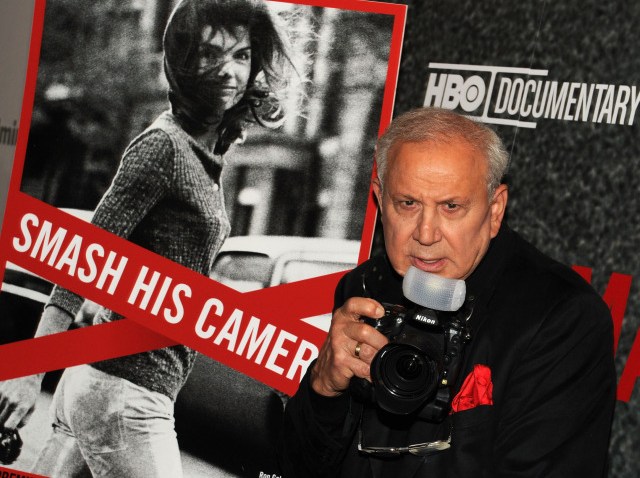 Infamous lensman Ron Galella, often considered the original paparazzo, revealed last night how he managed to snap one of the most controversial photos of his career: a photograph of former first lady Jackie Onassis with her children in Central Park.

At the premiere last night for the HBO documentary based on the persistent pap's nearly 50-year career photographing celebs in New York City "Smash His Camera," Galella detailed how he followed the first family to Central Park and got the shot that led the first lady to file a restraining order against him.

"The doorman of the building right next door to Jackie gave me several tips," Galella dished to Niteside.

"I gave him a couple bucks to call me when he saw Jackie coming or going. Some of the best leads of my career. One of them was that Jackie and John Jr. were on their bikes in Central Park, which was the shot that started the lawsuit."

He continued, "He also gave me a tip that Jackie and her daughter Caroline were playing tennis, because he saw their rackets. I got some shots and Jackie just took off running into the park. It was one of my great shots, and I followed her. ... She gave me quite the workout that day! Two of those shots actually have been on display here at the Museum of Modern Art."

Galella, dubbed "the Godfather of the U.S. paparazzi" by Time magazine, was photographing celebrities at Studio 54 during the 1970s and has even had his star-studded snaps displayed in the Museum of Modern Art.

After the screening attendees of the premiere ventured over to Monkey Bar, which is owned by Graydon Carter (who makes a cameo in the doc). There director Leon Gast, who studied the photog for nearly three years, said he was impressed by the shutterbug's tenacity.

"Steve Rubell barred him from Studio 54 for six months but he just found a way to stake out the back entrance on 53rd Street," Gast said. "Because of that insight he got these incredible pictures of celebrity at their worst after long nights at the disco."
"Smash His Camera" debuts on HBO on June 7th.