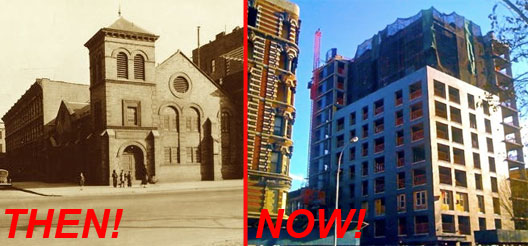 Early last year Harlem's Church of the Master was demolished after being sold to a developer looking to build on the site of the 115-year-old church on West 122nd Street, to the outrage of at least one person. Now Harlem Bespoke brings us an update on what has risen in its place, a new condo project called 88 Morningside (here's the preview website). The blog isn't crying over spilled milk, but wishes maybe things could have worked out a bit differently:
The new luxury condo's neighbor, 92 Morningside Avenue (which we mentioned previously) is a burnt out, graffiti covered, massive shell of a building. It would have been nice to have kept the charming church view and developed the apartment building shell instead. The challenge now is how will the developers conceal the messy view of it's rather cumbersome next door neighbor when they try to sell units next year.
Well they could always go pray in a chur—er, never mind.

Copyright CURBD