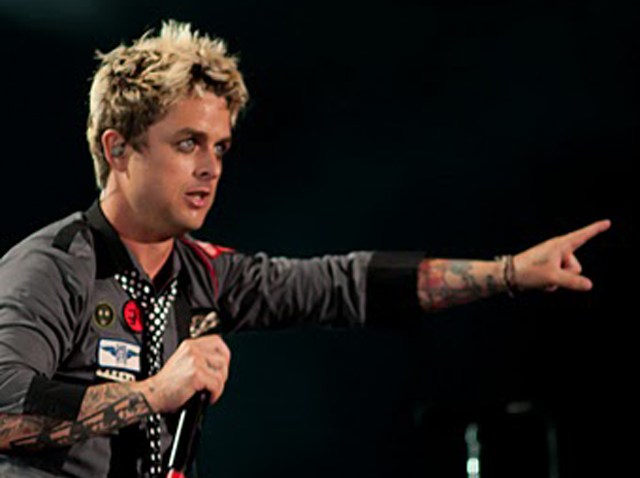 Green Day's lead singer is hitchin' a ride – on his own musical. Billie Joe Armstrong, the guylinered Dorian Gray of pop-punk, is set to step into a main role of American Idiot, the Broadway show based on his band's 2004 album, for eight shows spanning Tuesday through Sunday.

American Idiot, for those who haven't visited the Great White Way in awhile—and to be fair, Broadway does sometimes give punk fans suicidal tendencies—is a loose adaptation of Green Day's career-reviving, Bush-baiting concept album. It follows Johnny, a hardscrabble young musician who is disturbed by visions of St. Jimmy, a reckless, devilish ghost who fuels his self-destructive behavior. Johnny runs away from suburbia and leaves behind his equally hopeless best friends Tunny, who enlists in the Army and is sent to war, and Will, who struggles with his girlfriend's unplanned pregnancy. Armstrong, who helped write the musical's book, will step into the St. Jimmy role, temporarily replacing cast member Tony Vincent.

Green Day have enthusiastically supported American Idiot since its Berkeley Repertory Theatre opening in 2009, where it ran just down the road from the famed 924 Gilman Street club that gave the band their break. None of the members have performed in the Broadway staging before, though the band did play a surprise encore after an April performance.

Armstrong acting career is limited to a King of the Hill cameo and a two-minute scene during The Simpsons Movie in which he, along with Green Day guitarist Mike Dirnt and drummer Tre Cool, met their Titanic-worthy demise at the hands of Springfield's belligerent rock fans. Hopefully Billie will fare better while belting it out on Broadway; it'll certainly be a boon to the traditionally bleak September ticket sales.

American Idiot runs at the St. James Theatre on West 44th Street; it won two 2009 Tony Awards for Best Lighting and Best Set Design. Tickets to Armstrong's performanes are still available and selling briskly. But for you punk purists who the idea entirely (check the black-and-red message boards; it's a popular stance), this one goes out to the cheap seats.