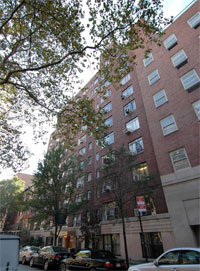 When St. Vincent's Hospital shut its doors, the hospital's only hope for satisfying its creditors was selling or leasing some of its fought-over real estate.

It's a bit late, but the plan is finally going the hospital's way!

The Observer reports more investor interest in 555 Avenue of the Americas, the first piece of the bankrupt hospital to go up for sale. Westbrook Partners has bought the building's first mortgage in an early play for the property, which already has a $48 million purchase offer from another investor. Drama!
And over at 130 West 12th Street, a former St. Vincent's building now owned by developer Rudin Management, the plan is to turn the 14-story building (right) residential, the Post reports. Architects Cook + Fox have signed on to design and an application for new windows will reportedly be filed with Community Board 2 today. Sorry, Greenwich Villagers.

We all know new windows mean business.
Copyright CURBD