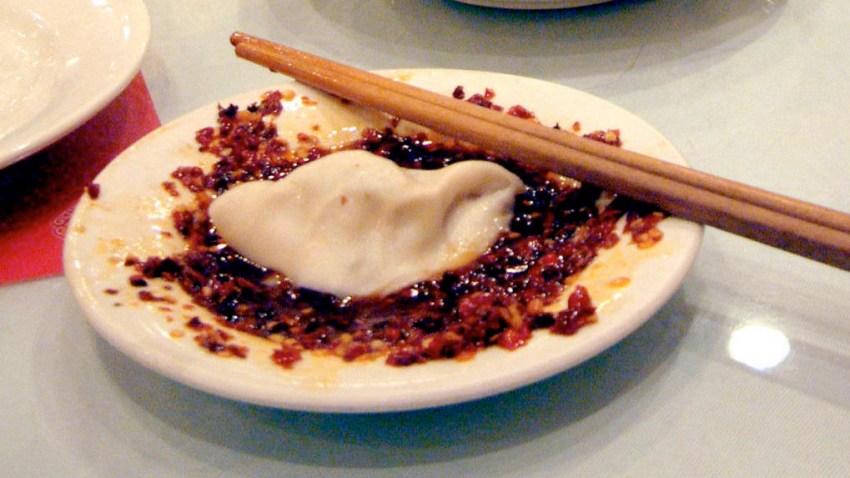 Marco Polo's buns.
After we wrote about Mindy Kaling's dumpling obsesh, she told us that her dream was to open an international turnover restaurant, selling arepas, samosas and the like. Funny, we've had that idea too! Well, folks like Mindy are in for a treat -- never mind that the wacky empanada emporium, Empanada Joe's opened a Chelsea location on Monday.
We recently discovered an East Village eatery, open for a few months now but surprisingly unnoticed aside from an Eating in Translation stop-in, that traffics not only in Shanghai-style steamed buns, but also "dumplavoli" specials. So what's a "dumplavoli"?
Stefano Magaddino, an Italian-American who runs the tiny takeout joint (previously located in Long Island City) with his Chinese-American wife, tells us that combos include four or five ravioli along with five or six dumplings. Depending on whether you're ordering lunch or dinner, the ravioli are filled with spinach and cheese, ground beef, portobello mushrooms, Italian sausage, vegetables, shrimp, or lobster, and the dumplings are filled with chicken or spicy pork. That's great, but what about a dumpla-voli-samo-panad-arepa combo?
Empanada Joe's 668 Sixth Ave., nr. 21st St.; 917-338-4780
Marco Polo Fusion Cafe, 102 St. Marks Pl., nr. Ave. A; 212-228-8456
Read more posts by Daniel Maurer
Filed Under: arepas, dumplings, empanada joes, marco polo fusion cafe, mindy kaling, Openings, ravioli, turnovers
Previously on NYmag.com's Grub Street...

Copyright FOODD - NY Mag