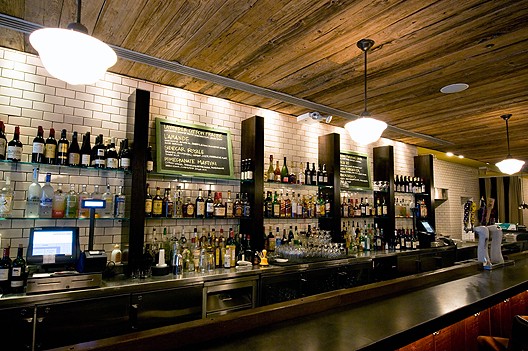 Krieger, 10/23/08
Almond, the new 170 seat restaurant in the cursed Borough Food & Drink Space opened ten days ago, and surprisingly it's the Eater readers, not the Yelpers and Chowhounders, who have written in with the majority of the early reviews. Fans of the original Bridgehampton Almond are generally approving of the new addition. But there are some serious concerns here. To the good news and the bad news:
The Mostly Good News: An Eater commenter chimes in with an early positive write up: "I ate here on Saturday night and must say the food was really good. IT was pretty empyt feeling until about 8:30 and it filled up. Check for 3 people with two apps, wine and three entrees was under $150 so we were happy about that. I'd recommend but don't know about the location; not exactly a place you'd stumble upon." [Eater Comments]
The Bad News: A neighbor, and fan of the Bridgehampton location, writes in with the bad news: "On the plus side, the food was pretty good (if not particularly inventive or memorable, but no one goes to Almond for the food anyway) and service seemed well-organized and efficient -- both accomplishments a testament to Lemonides's and Jason Weiner's managerial skills. But the room is just awful -- too big, too cheaply furnished; the lighting is too dusky (punctuated with glaring pendants in the service kitchen/expediter's station, which sits oddly adjacent to the bar and juts into the dining room). And unfortunately, we're afraid that the crowd that makes the Bridgehampton spot so hopping is going to be turned off by the tables of cosmopolitan-gulping birthday revelers (complete with tinfoil balloon tied a chair), kids scrambling around the room (maybe their parents just picked them up from the playspace a few doors down?), and visitors from the outer boroughs who were probably familiar with the place from its earlier incarnations." [Eater Inbox]
The Good News: Another fan of the Bridgehampton branch chimes in, but with the good news: "I went there the other night for previews and liked it. Granted, I like the one in Bridgehampton too. Space is big, but fun, with a good vibe. Big bar - nice to hang out at, and shoot some pool after the meal was nice too. Food was good - French bistro with some Italian thrown in. Mussels are awesome. Prices not too high either." [Eater Comments]
The Great News: And there is a staunch supporter with a brief comment on Yelp: "Stopped by to check out Almond, from Bridgehampton, which opened in Borough's new digs. Just a drink and the raw bar looks amazing. The staff couldn't be nicer (it is opening day -1)..." [Yelp]For more stories from Eater, go to eater.com.
Copyright EATER