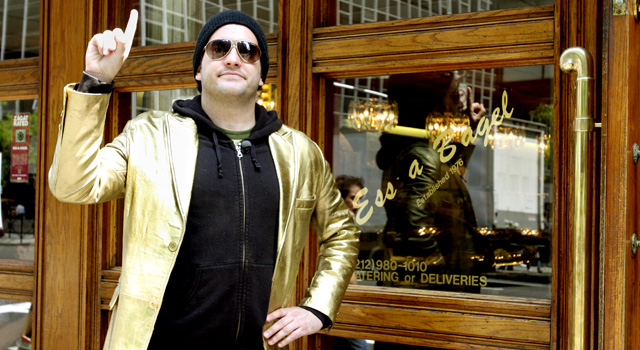 New York is known for a lot things "best": the best pizza, best coffee, best mascot for a local network competition … the list goes on and on.
The fifth installment of the Golden Local competition brings us to the brink of summer, and that most coveted of New York delicacy "best's"— the Bagel. Now before I bring you the "hole" story, let me just say that New Yorkers are notoriously picky about how they live their lives—and nowhere is it more evident in their choice of bagel.
Citizens around the world hold New York in high esteem for this circular snack. Millions flock to the Big Apple every day to get their hands on this local favorite, so it was only natural that yours truly, the GL, should weigh in on the competition. (It's the yeast I could do.) There are a lot of establishments vying for New Yorkers' "dough,", but our choices were narrowed down to two very distinct, local favorites: Murray's vs. Ess-A-Bagel.
Ess-A-Bagel, with two delectable locations at 51st Street and 3rd Avenue and 21st Street and 1st Avenue, was crowned the winner by an overwhelming majority. As soon as I walked into the place, the aroma of freshly baked bagels awakened my senses and I was hooked before I even took my first bite. Over a nosh of whitefish salad & lox spread on a raisin pumpernickel bagel (they promised to name that sandwich combo after me), I spoke with the owner, Florence Wilpon.
"It started 32 years ago," Wilpon said. "We decided we wanted to open a bagel store, found an ad in the New York Times advertising bagel ovens and now here we are using the very same one."
I asked her what it was like trying to compete in such a high volume market, in an environment like New York City. "You have to have a lot of perseverance and imagination," she said. "We use only the best ingredients, all natural, and no preservatives. We opened on a Tuesday, which my mother said was lucky, and every Tuesday since we opened, my husband would ask, 'Are we closing?' You have to love what you do and have a sense of humor."
I asked the Queen of all things appetizing what it was like to win me, the human trophy.
"It feels great to be recognized as best bagel," she Wilpon said. "People want to know if I'm keeping (you). I tell them, no, he has to go home once in a while. It's better than receiving something in the mail."
She then proceeded to squeeze my golden arm, saying it's "nice to actually see him -- and feel him."