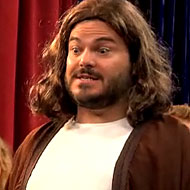 In case you haven't seen it yet, here's FunnyorDie.com's latest exclusive. In it, Hollywood goes to Broadway (via community theater) for a few minutes on behalf of gay rights, thanks to Hairspray writer (and longtime Bette Midler producer/director -- what could be gayer than that?) Marc Shaiman. There are more celebs in this than you think of. In fact, we don't even recognize all of them. Who's the cute gay in the yellow smiley-face shirt? And why doesn't Sarah Chalke have a bigger role?
A star-studded cast turns out for Marc Shaiman's "Prop 8 - The Musical." [FunnyorDie]
Read more posts by Chris Rovzar
Filed Under: allison janney, early and awesome, gays, jack black, john c. reilly, margaret cho, maya rudolph, neil patrick harris, proposition 8, sarah chalke
Previously on NYmag.com's Daily Intel...

Copyright INTEL - NY Mag