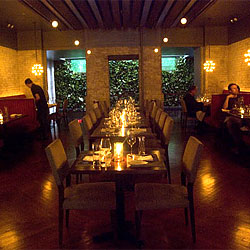 Former Mas chef Gavin Mills has parted ways with Broadway East after giving the onetime vegetarian spot a meaty makeover (even installing a proper burger). Though we hear Mills initiated the split, general manager Laurie Tomasino tells us the decision was mutual: "Gavin is a great chef, but he's at a stage of his career where he wants to make a mark — say, from a three-star review — but he didn't have the experience or business savvy to know there was a serious disconnect between the food and the scene." Tomasino says the restaurant wanted Mills to change the menu more often — "We weren't asking him to dumb down the food but to broaden his horizons and bring new, affordable ideas to the table in an effort to reach the neighborhood." She says she's currently looking for a great chef who'll appreciate the venue's melding of art, music, and food (maybe Don Pasta?). Interested parties can reach her at info@broadwayeast.com. In the meantime, the kitchen is under the guidance of sous-chef Dominic Feragola, who (rumor has it) is filming an upcoming episode of Chopped (Mills is a past winner of the show). He'll be executing Mills's spring menu, below.
Salads
Seasonal Lettuces - blood orange vinaigrette ••• 8
Rocket Greens - shaved fennel, Pecorino tuille, sherry vinaigrette ••• 9
Ruby Red Beets - goat cheese ice cream, pistachio, balsamic vinaigrette ••• 10
Housemade Mozzarella - prosciutto, cerignola olives, grilled crostini ••• 12
Warm Long Island Duck - Hen Egg, Maytag Blue Cheese, Brioche Crouton ••• 11

Appetizers
Prince Edward Island Mussels - Coconut lemongrass curry, kaffir lime leaf ••• 11
Cornmeal Crusted Squid - gremolata, preserved lemon aioli ••• 9
Oven Baked Pizzette of the Day ••• 10
Maryland Crab Cakes - avocado mango salad ••• 13
Yellowfin Tuna Sashimi - soy ginger vinaigrette, micro wasabi ••• 14

Burgers
Veggie Cheddar, avocado, chipotle mayo, hand cut fries ••• 13
Grassfed Organic Beef - Grafton Cheddar, roasted tomato, hand cut fries ••• 14
Vegan - Monterey Jack, spicy radish, onion rings ••• 13

Fresh Pastas
Spinach Ravioli - ricotta, spring peas, brown butter ••• 10/18
'Coq au Vin' Ravioli - wild mushrooms, carrots ••• 10/19
Lemon & Ricotta Gnocchi - shrimp, asparagus, Parmigiano ••• 11/20
Wild Mushroom Tagliatelle - garlic cream, crispy sage ••• 10/18

Entrées
Beer Battered Chatham Cod - hand cut fries, tartar sauce ••• 18
Steamed Corvina Filet - artichokes, Preserved lemon, Whipped potatoes ••• 22
Seared Yellowfin Tuna - tabouleh salad, sautéed rapini, Harissa ••• 24
Farro - spring vegetables, arugula pesto ••• 17 ••• 18
Organic Saffron Tofu - ratatouille, Tempura Asparagus ••• 17
Herondale Farm Roasted Chicken - sautéed spinach, garlic Mashed Potatoes ••• 19
Berkshire Pork Belly - truffled white beans, glazed Heirloom carrots ••• 20
Rattlesnake Farm Hanger Steak - Shaker Blue cheese, onion Rings ••• 21

Previously on Grub Street...

Copyright FOODD - NY Mag