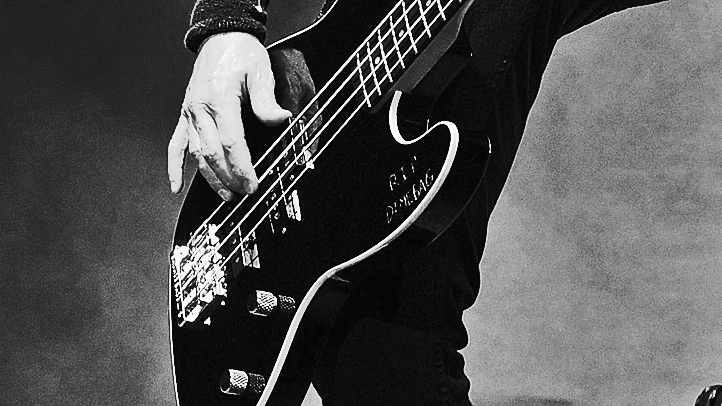 New York's tenacious DIY -- do-it-yourself-- venue scene is a thing of grimy beauty. There's dozens of venues across the city that are little more than the living room of a loft apartment, or the bottom floor of a commercial space, and they offer evenings on par with the Bowery Ballroom or Terminal 5. Death By Audio in Williamsburg is one of those places.
Death by Audio carved out a spot in pre-gentrified Williamsburg at South 2nd and Wythe — what is now prime real estate and what was then industrial nothingness — and they've hung onto their claim with the tenacity of a prospector, in part by just putting on some really incredible shows. Dustin Wong and JEFF The Brotherhood were two incredible shows we attended last year, and boy does it ever warm your heart to see someone's name pop up in Rolling Stone or Pitchfork just after you saw them at a wonderfully intimate DBA show. And tomorrow, Death by Audio is putting on one hell of a show.
Opening the evening is Brooklyn's very own Darlings, a loud, bashy four-piece who, as the L Magazine puts it, "sounds pretty much exactly how you always wanted your high school garage band to sound." Adept musicians who haven't forgotten how much fun it is to turn up guitars really loud and hit things really hard, Darlings make you remember that rock is supposed to be fun.
Neither has Ed Schrader, though he appears to have a much looser definition of the terms "rock" and "fun" than Darlings. Ed Schrader's Music Beat consists of, well, Ed Schrader beating a floor tom and howling/singing maniacally, and bassist Devlin Rice blasting huge, Motorhead-sounding basslines. Some song titles include "My Mind is Broken By the Sound," "I Can't Stop Eating Sugar," and, more simply, "Rats." The pair's unique sensibilities are interesting to say the least, but they're definitely a live band worth experiencing.
Headliner Future Islands hail (like Schrader) from Baltimore, and they're a much higher-profile band than the others on this bill, so this is a great opportunity to see them in a more intimate setting and at about half the price of a "normal" venue. The group is a three-piece, consisting of Gerritt Welmers (keyboards and programming), William Cashion (bass and guitars), and Samuel T. Herring (vocals). They specialize in a dramatic, swooning, '80s-influenced indie, with layers of pillowy synths, New Order-esque bass, and pounding drum machines all bolstering Herring's dramatic intonations. One of the most riveting frontmen around, Herring puts his voice through the paces, wrangling a wide variety of timbres from his vocal cords and hurling himself across performance spaces with theatrical abandon. We highly recommend it.
Death by Audio is located at 49 South 2nd Street, between Wythe and Kent, in Williamsburg. Doors are at 8 p.m., and it's $10 to get in.