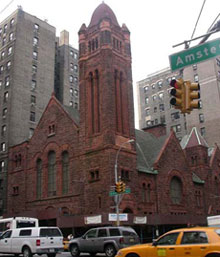 When Amsterdam Avenue's West-Park Presbyterian Church was landmarked in January, it was very much against the wishes of church officials, whose preferred plan was to bring in some revenue with residential development.
Church officials have been campaigning for City Council action to overturn the landmark designation, but, DNAinfo reports, they've also moved on to plan B: selling the place.
The building is on the market with no official asking price, and Reverend J.C. Austin tells DNAinfo the church "is considering offers that come in regardless of their source."
Other options include letting a school or business use the space when the church isn't. Maybe everyone should take some time to ponder while wearing their WWJD bracelets?
Copyright CURBD