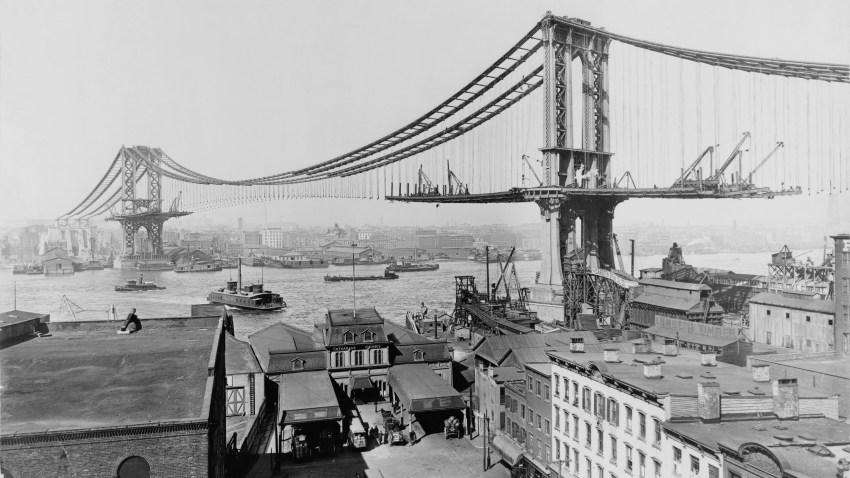 The Manhattan Bridge may not get as many photo ops as its older sister, the Brooklyn Bridge, but that's not because it is any less important -- if not for tourists than definitely for the city and the people who live here.
At least that is what the NYC Bridge and Centennial Commission is preaching this week during the suspended structure's 100th anniversary celebration. Last night, the mustaches in charge of the bridge's preservation and maintenance met to discuss the other lady of the East River.
It's the "most influential bridge for engineers of the 21st Century," gushed Henry Perahie, Chief Bridge Officer for NYCDOT.

And it certainly earns its keep: carrying nearly 400,000 people, or about the population of Miami, across its 5,800 feet of steel every day by train, car, bus and bike.

The hard-working bridge was originally proposed to carry the railroad and and ease congestion on its more popular neighbor. Part of the reason the bridge doesn't get the love it deserves is because it has been a work in progress since the day it was conceived.
Mayor McClellan, whose last day in office was marked by a trip over the not-quite-completed Manhattan Bridge, put it well, according to Michael Miscione, Manhattan Borough Historian Michael Miscione.

"'That was great,' McClellan said, 'now go fix the bridge.'
"And we've been doing it ever since," jokes Miscione. Construction of much-needed infrastructure such as the bridge was one of the main reasons Brooklyn allowed itself to be annexed by New York City at the turn of the century (though signs proclaiming Brooklyn the fourth largest city in America survived on the bridge into the 1970s), according to Miscione.

The Manhattan almost didn't make it to last Sunday's centennial celebration. In 1978, during what Samuel Schwartz, the former NYC traffic commissioner known as Gridlock Sam calls the "period of neglect" for the city's infrastructure, the bridge very nearly collapsed. The steel on one of the four suspension beams that keeps the bridge above water was as "thin as paper."

The bridge has undergone multiple restorations since then, including the creation of "torque tubes" recently which reduced its movement from as much as 6 feet to a mere 26 inches. Of course, a 5,800-foot suspension bridge is designed to move at least a little.

Some laughed at the time-lapse photography of the bridge's movement that was all over the internet recently: "Apparently some people were shocked that it moves so much. I was shocked that they were shocked."

Schwartz said he misses the old days when "you could stand in the middle and see it rise and fall."

The Centennial Celebration continues for the rest of the week with walking and biking tours and lectures.