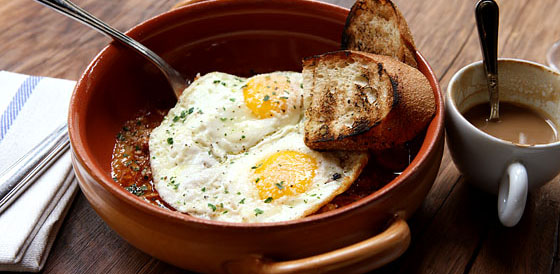 These are trying times for the curmudgeonly species known as the anti-brunch grump. First comes the news that the provocatively named Permanent Brunch — a restaurant daringly devoted to serving the weekend meal not just on Saturdays and Sundays but all week long — will finally officially open next week. And now this: Beginning August 1, Andrew Carmellini and Karen DeMasco will dedicate sleepy weekend mornings to flipping flapjacks, stirring grits, and coddling eggs at Locanda Verde. It's especially good news for anyone who craves a nice plate of eight-hour tripe with a fried duck egg at 11 a.m. on Sunday morning. If you're pro-brunch, take a look at the menu, below; if not, avert your eyes.
Gabagoul & Grana 14
Our Crostino of the Day 7
Granola Parfait with organic yogurt and berries 12
Black Fig Insalata with arugula, Asiago, and duck brasaola 12
Sheeps' Milk Ricotta with truffle honey and burnt orange toast 11
Local Tomatoes with watermelon and smoked ricotta from Abruzzi 13

Red Mill Organic Oatmeal with stewed fruits and almonds 11
Wood-Fired Uovos Al Forno with carona beans and black Tuscan kale 14
Zucchini Frittata with roasted tomato, goat cheese, and fiore di zucca 14
Uova Modenese with cottechino hash, spinach, and tomato hollandaise 16
Soft Scambled Farm Egg Crostino with leeks, mushrooms, and speck 15

Lemon Ricotta Pancakes with local blueberries and Meyer lemon curd 14
Crispy Polenta Waffle with local strawberries and mascarpone 15
Hazelnut Crusted French Toast with Sicilian citrus salad 15

Broccoli Rabe Sausage Grinder with spicy peperonata and ricotta 12
Shaved Porchetta Sandwich with grilled onions and provolone 14
"Shrimp and Grits" with organic polenta and a coddled egg 17
Maltagliati with pesto and Parmigiano-Reggiano 14
Fettuccine Verde with white Bolognese 16
Eight-Hour Tripe with a fried duck egg 14
Fire-Roasted Garlic Chicken 18

Contorni
Smoked Bacon 6
Homemade Pork Sausage 7
Crispy Garlic Potatoes 6

Cooking Today: Andrew Carmellini & Luke Ostrom

20 percent gratuity will be charged to parties of 6 or more people
BEER

Draft, 12oz.
Victory Lager, 6
Smuttynose Summer Weiss, 7
Schneiderweiss Hefeweizen, 7
Six Points Bengali I.P.A., 7
Six Points Righteous Rye, 7

Bottle, 750 ml
Sella del Diavolo, 22
Barco ReAle Pale Ale, 24
Baladin Al-Ikser, 28

ROSATO by the GLASS
Castello di Ama Rosato 2008, 10

SPUMANTI & BIANCO
by the GLASS
Prosecco Valdobbiadene Drusian Brut NV, 10
Tramin Sauvignon Blanc 2008, 10
Fontezoppa Verdicchio de Matellica 2008, 9
Pilandro Lugana 2007, 8
Contra Soarda Vespaiolo 2007, 12
Bruna Pigato 'Russeghine' 2007, 14
Terredora Falanghina 2008, 12

ROSSO by the GLASS
Valle Acate Cerasuolo di Vittora 2006, 14
Alberice Refosco 2006, 11
Zamo Rosso 2008, 11
La Mozza Morellino di Scansano 2006, 9
Nespoli Sangiovese di Romagna 2006, 12
Produttori Langhe Nebbiolo 2007, 13
Grifalco Aglianico del Vulture 2006, 9
Previously on Grub Street...

Copyright FOODD - NY Mag