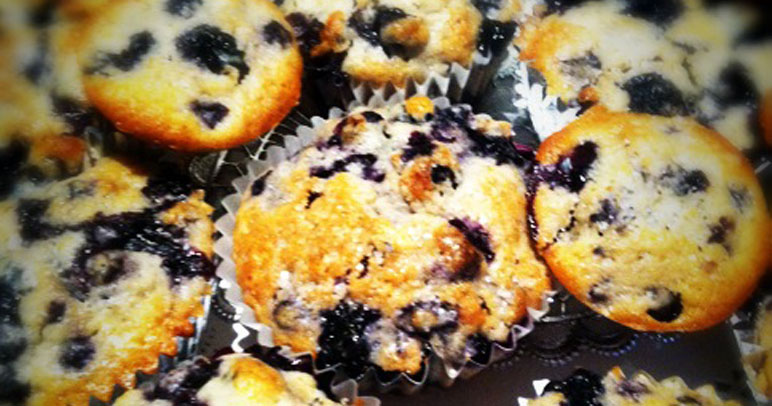 Healthy baking takes a little bit of knowledge and whole lot of faith. It requires the understanding of how ingredients will react to one another, since you only get once chance to get things right before everything goes in the oven.

Change up your recipe even slightly to up its health quotient, and the finished product might completely fall apart – or taste like sandpaper. It helps to have an idea of how the original components like butter, sugar and heavy cream are meant to work together so that, when substitutions are made, you can anticipate their reaction. Of course, as with any baking, it's a total gamble.

This recipe for blueberry muffins is one I adapted from a less healthy though incredibly delicious version found in Gwyneth Paltrow's excellent family-focused cookbook, "My Father's Daughter."

According to Paltrow, her mother made these sweet and tart treats all the time when she was a kid. When altering the recipe, I swapped out the butter for vegetable oil, used light brown sugar in place of white and changed the whole milk to almond milk, which gave the finished product a slightly nutty quality.

I also added a quarter of a cup of lemon zest to the dry ingredients, which helped to intensify the flavor of the blueberries.

These easy-to-make muffins serve as a lovely breakfast for any holiday morning. Of course, if you're a bride, they also serve as a perfect "something blue."
___________________________________________________________________________
Better-for-you Blueberry Muffins

Adapted from "My Father's Daughter" by Gwyneth Paltrow

I made these muffins with organic frozen blueberries because I had them on hand. When in season, fresh berries are always the best choice. Either way, these simple and quick muffins are always delicious.
Makes 12 muffins
Ingredients:

½ cup vegetable oil
2 eggs
½ cup almond milk
1 cup unbleached all purpose flour
1 cup whole wheat pastry flour
2 teaspoons baking powder
½ teaspoon salt
2 ½ cups blueberries (fresh or frozen)
¼ cup lemon zest

Directions:
1. Preheat the oven to 375 degrees and line a 12-cup muffin tin with paper liners. Whisk vegetable oil, eggs and almond milk together in a small bowl. Set aside.
2. In a larger bowl, stir flour, baking powder, salt and lemon zest. Pour wet ingredients into dry and mix to combine. Slowly fold into blueberries.
3. Scoop mixture evenly among muffin cups and bake for 25 to 30 minutes.
4. Serve warm and share with someone you love.

Mallory Stuchin, a native Manhattanite, is the food editor for joonbug.com. She is also a natural foods chef and has worked for Mario Batali. Her writing has previously been featured in The New York Observer, Glamour and Maxim, as well as other publications in New York and Los Angeles. Mallory has also studied Ashtanga yoga in Mysore, India and has taught classes at PURE Yoga and New York University. You can follow her on Twitter @malstuch.