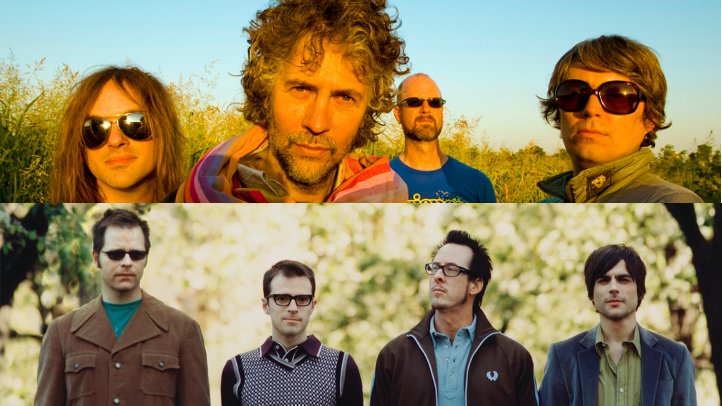 In the world of inflated egos that is rockstar-dom it is nice to see two big name bands recognize when an opportunity is in front of them to team up and create an memorable event for their fans even if it mean relinquishing a bit of top line billing.
Thus is the case with the upcoming area shows featuring the purveyors of power pop Weezer and the preeminent psyche rockers The Flaming Lips. As we already know, the bands are already set to share the bill at PNC Bank Arts Center on July 28 and Jones Beach Theater on July 29, but what we didn't know is that the bands will also share the stage.
Yesterday the bands announced that they will play side-by-side for both of their area shows. This means all their gear will be onstage at the same time and the bands will take turns playing songs for a set that should prove to be pretty entertaining.
Expect bandleaders Rivers Cuomo (Weezer) and Wayne Coyne (Lips) to come up with some wacky stage antics that will probably involve trampolines, aliens and quite possibly a bubble ride for two out over the crowd.
Tickets for the shows are still on sale and with Brooklyn's own Yeasayer opening both shows; they have great potential to be a pair of perfect summer nights full of musically collaborations and bizarre pageantry.