A new fitness-service website called FITiST held a launch event last night called "The Ultimate Fitness Class," and some Go Healthy New York bloggers and readers were there to sample some of the workouts. The program included (from first to last):
Food Matters NYC was also on hand to offer food and beverages.
Among the GHNY contributors who were at the event: Dori Manela, Melissa Davison (who couldn't join us for the chat but sent along some notes), Alison Feller, Mallory Stuchin, and Sarah Levy.
We regrouped this morning to chat about the event. Here's a slightly edited transcript of our (slightly) long but (very) fun conversation!
---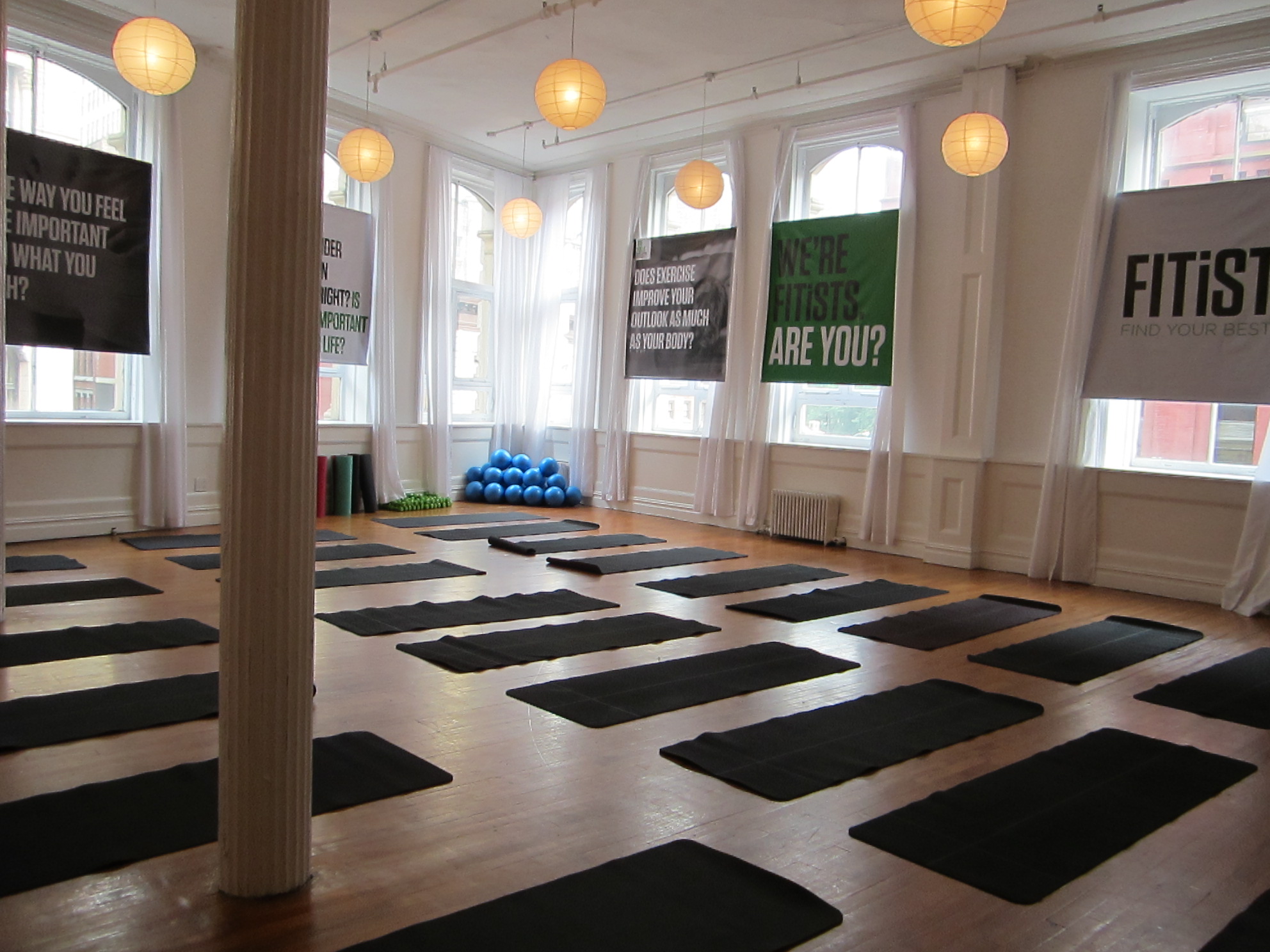 Mallory Stuchin: Hi everyone

Dori Manela: Hi!

Michelle: Hi guys!

Alison Feller: Good morning!

Mallory: Who else is super sore?

Alison: Um, totally

Dori: Just the insides of my elbow area

Alison: Too. Many. Planks.

Mallory: Agreed!

Dori: i think from the FlyBarre section

Alison: All those weight things during FlyBarre worked me goooood

Dori: insane!

Sarah Levy: clearly i'd been neglecting my abs...

Sarah: i LOVED the arms portion of flybarre - in an "i hated it" way

Mallory: I'Ve been neglecting my crazy bootcamp jumps
I did not care for those

Alison: Oh gosh, I never want to do another squat thrust

Dori: i actually love jumpbacks, but did not love the bootcamp

Michelle: Haha, sounds like it was pretty intense... So give me the deets -- what was the event about, and what was it like walking in?

Sarah: When I walked in, I assumed the studio we were gathering at was "FITiST," but the premise is a website that sort of serves as a versatile, one-stop-shop for fitness

Mallory: I had the chance to speak with the founder of the program a bit

Mallory: She was great and explained FITiST

The idea is that FITiST will work in conjunction with boutique exercise programs- like bootcamp and flybarre to create personalized programs for the individual

You join as a monthly member and then have access to all of the different workout progams

Sarah: From what I understood, you pay for a plan/program, and then you get access to the affiliated studios

Mallory: So, for example, if you're a marathon runner and want to combine yoga, weight training and pilates, you can sign up and go to all different workouts and book them through fitist

Mallory: They are also working in conjunction with health coordinator types who can help customize a plan for the individual

Sarah: I think its point is to be a loophole for those who like to try out different studios/boutiques in the city

Sarah: Rather than paying for a million different classes/membership fees, you get access to a variety of workouts

Alison: It also seems like a great idea for people who don't want to belong to just one gym.

Dori: i know they offer last minute discounts too

Dori: so if a flybarre class isnt full, theyll let their own fitist members get in at a cheaper price

Mallory: Well that's cool

Alison: Nice. That's pretty cool, I like that

Michelle: Oh, kind of like a Priceline for fitness classes then? Cool!

Dori: thats a good way of putting it

Mallory: Thats exactly what it is

Michelle: So tell me about the event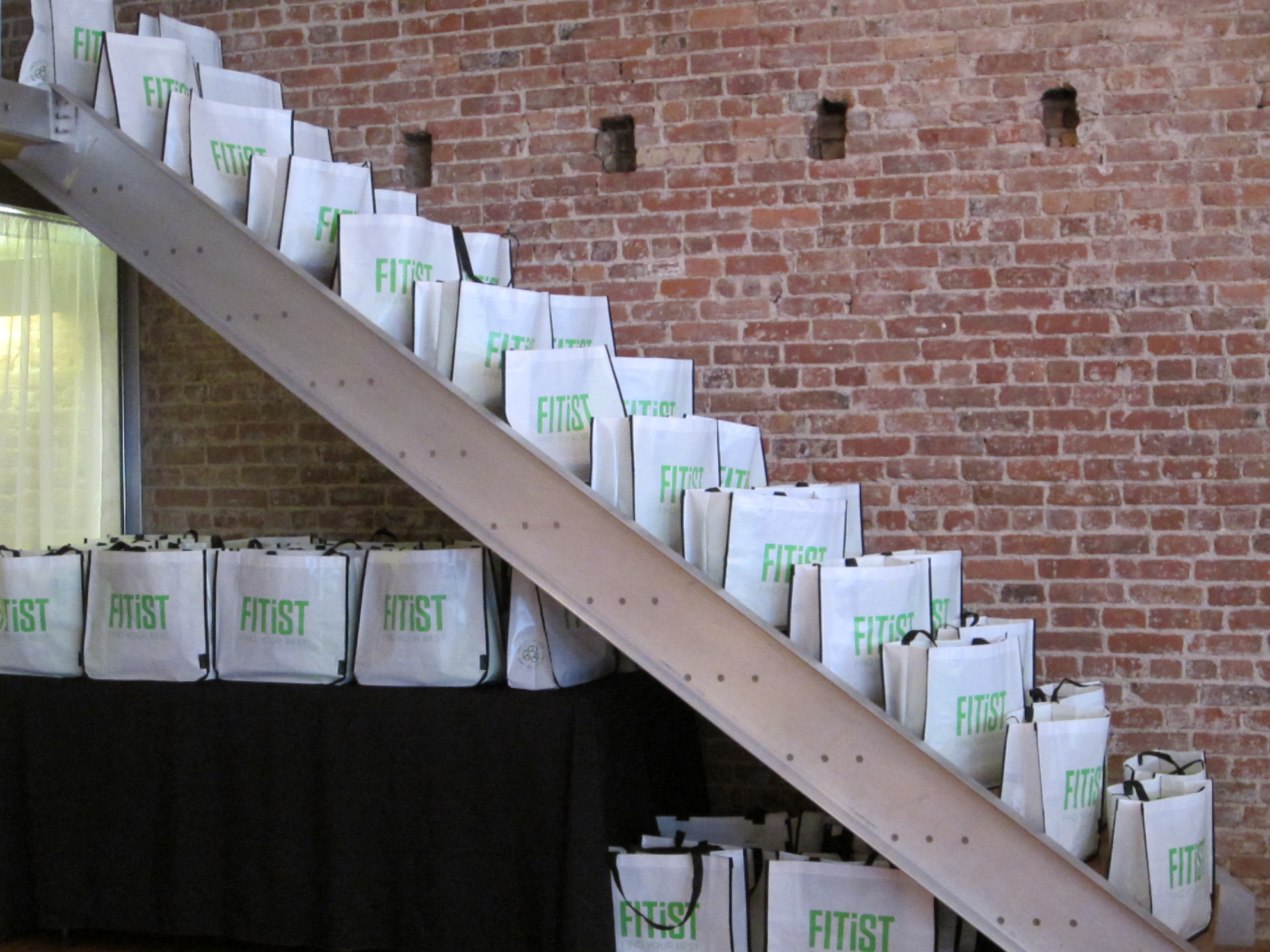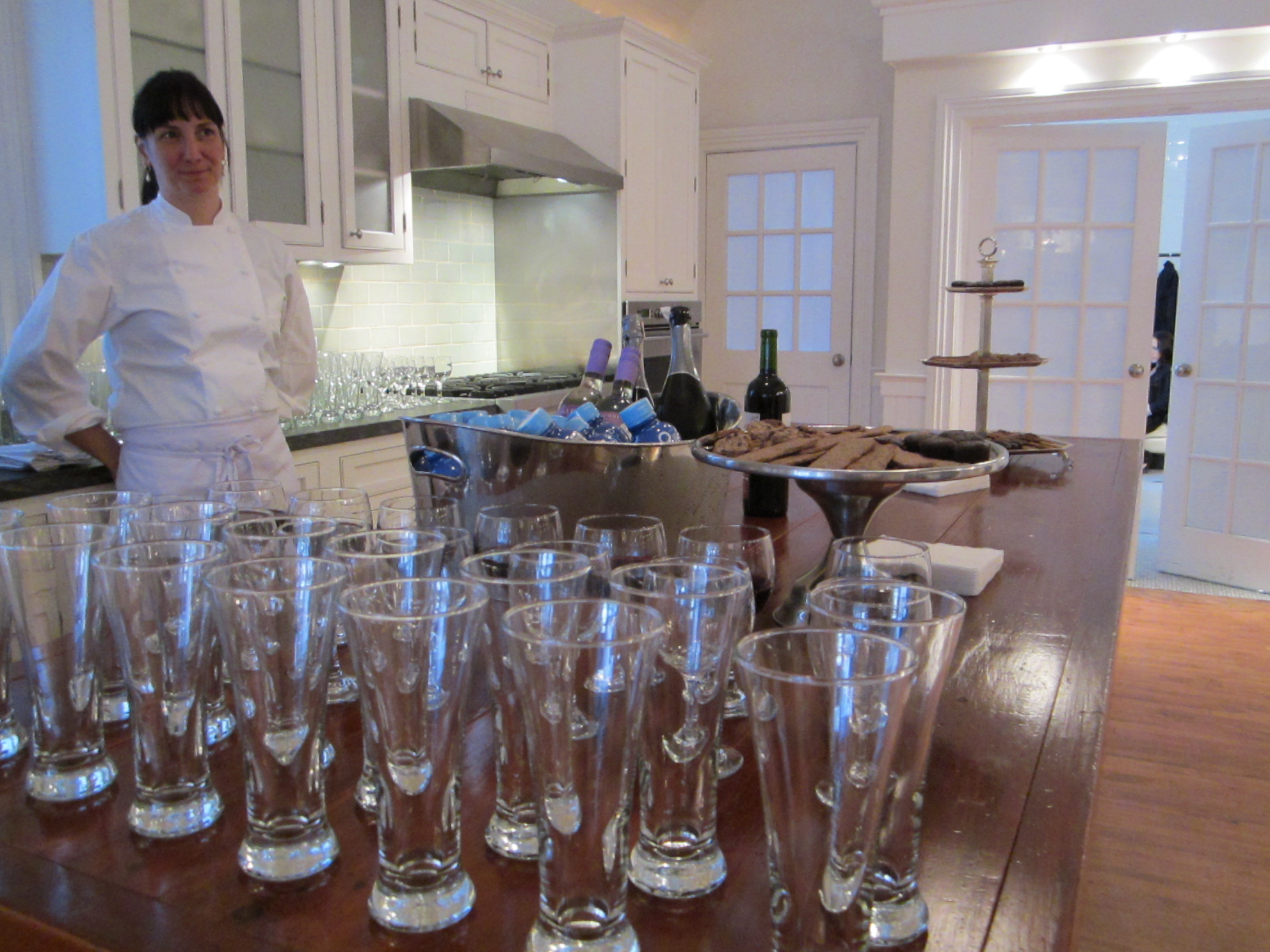 Alison: Well when I first walked in I was thrilled — that space was gorgeous and it was set up really nicely

Alison: All quality stuff: Lululemon yoga mats, SmartWater, etc.
Dori: yes and lots of Zico coconut water, all flavors.. my favorite

Mallory: I know!

Sarah: it was GORGEOUS

Alison: I loved the big windows, the gorgeous kitchen (the quinoa brownies...)

Mallory: Large loft, yoga mats, weights, picos everywhere

Dori: it looked like a loft apartment
but a giant one

Alison: And they had two strapping young men (in my opinion—hehe) who were constantly setting up the mats, rolling out new ones, etc., so we didn't have to do it ourselves

Dori: not my type

Michelle: LOL

Alison: I felt confused, but I felt taken care of. I loved the water out everywhere, the abundance of fresh towels

Dori: yes! we were very provided for
there were healthy baked treats and smoothies
wine

Sarah: There was a great culinary nutritionist in the kitchen
with delicious cookies

Michelle: Was it kind of a like a circuit deal? Or did everyone do the same activity at once?

Dori: same activity at once

Alison: Everyone did the same activity
We started with yoga

Dori: we started with yoga with kristin mcgee
shes a big name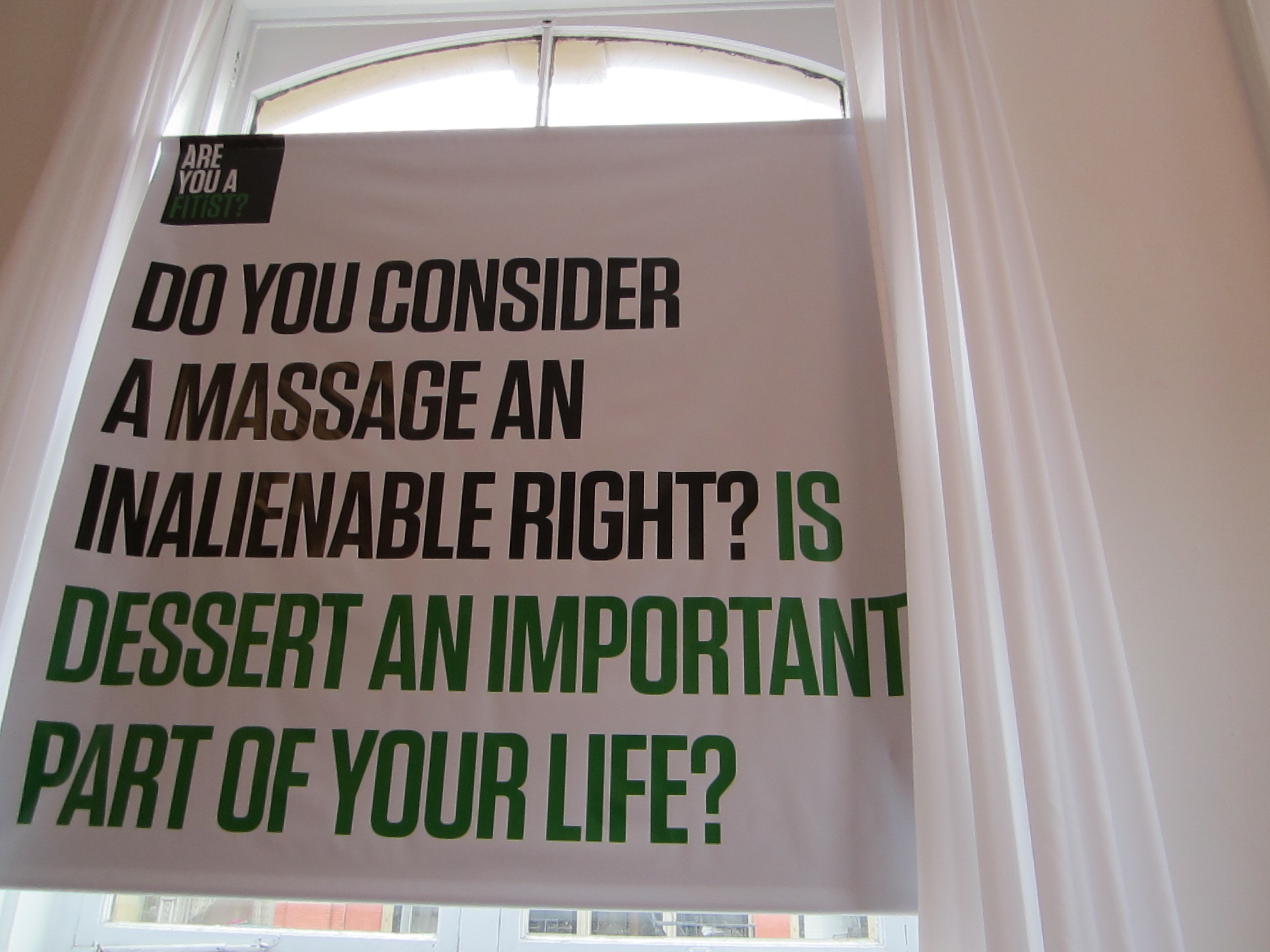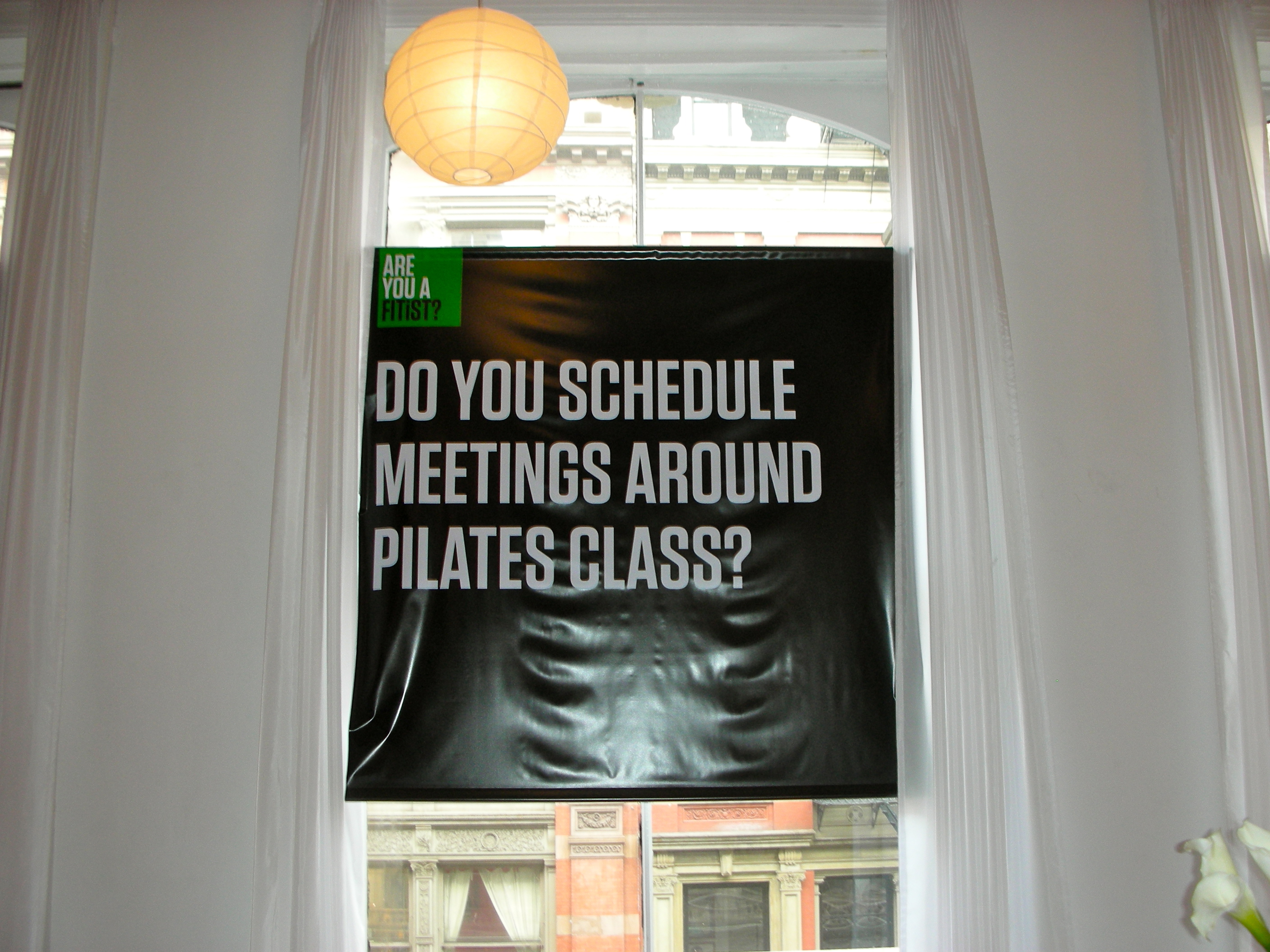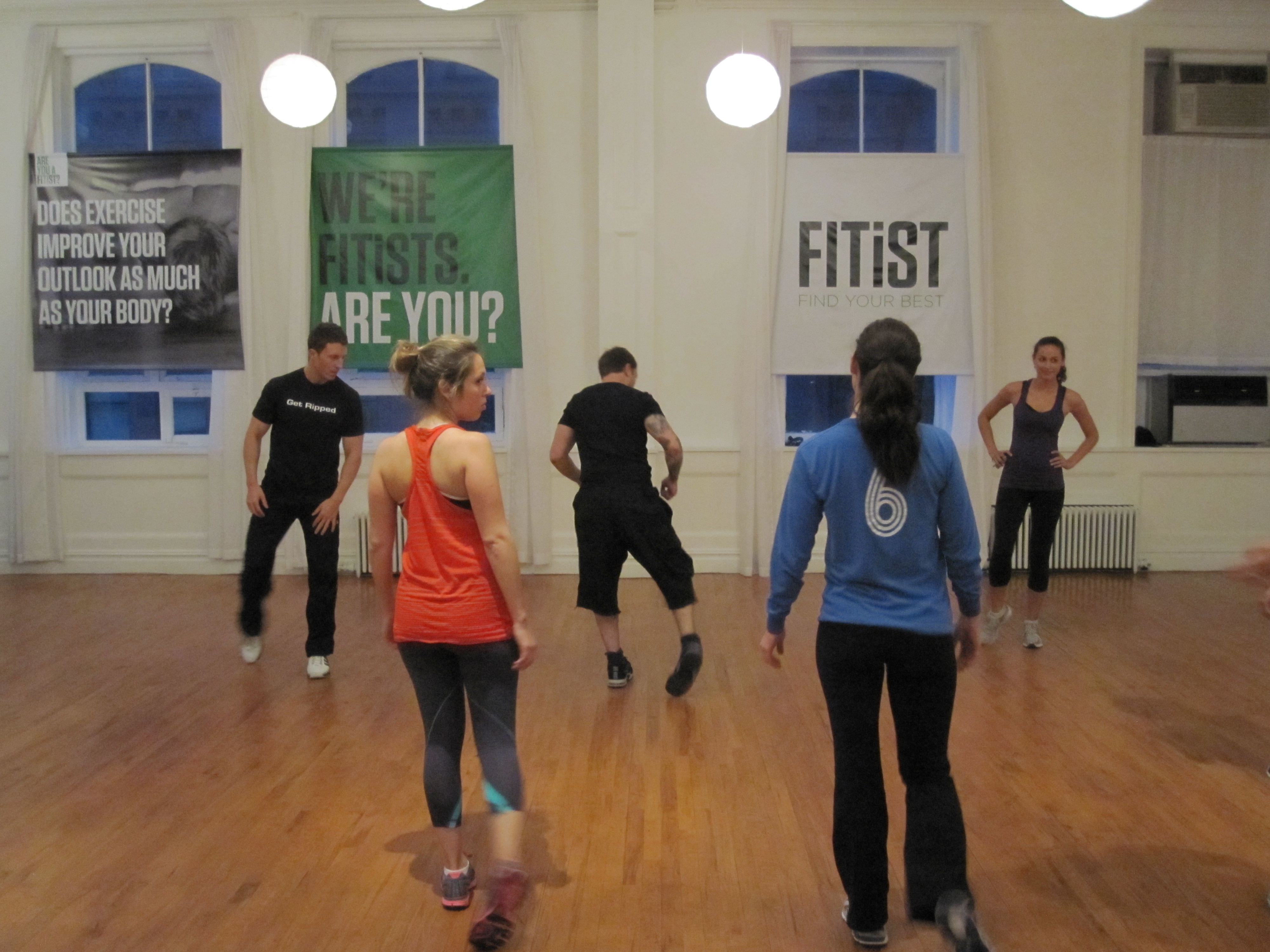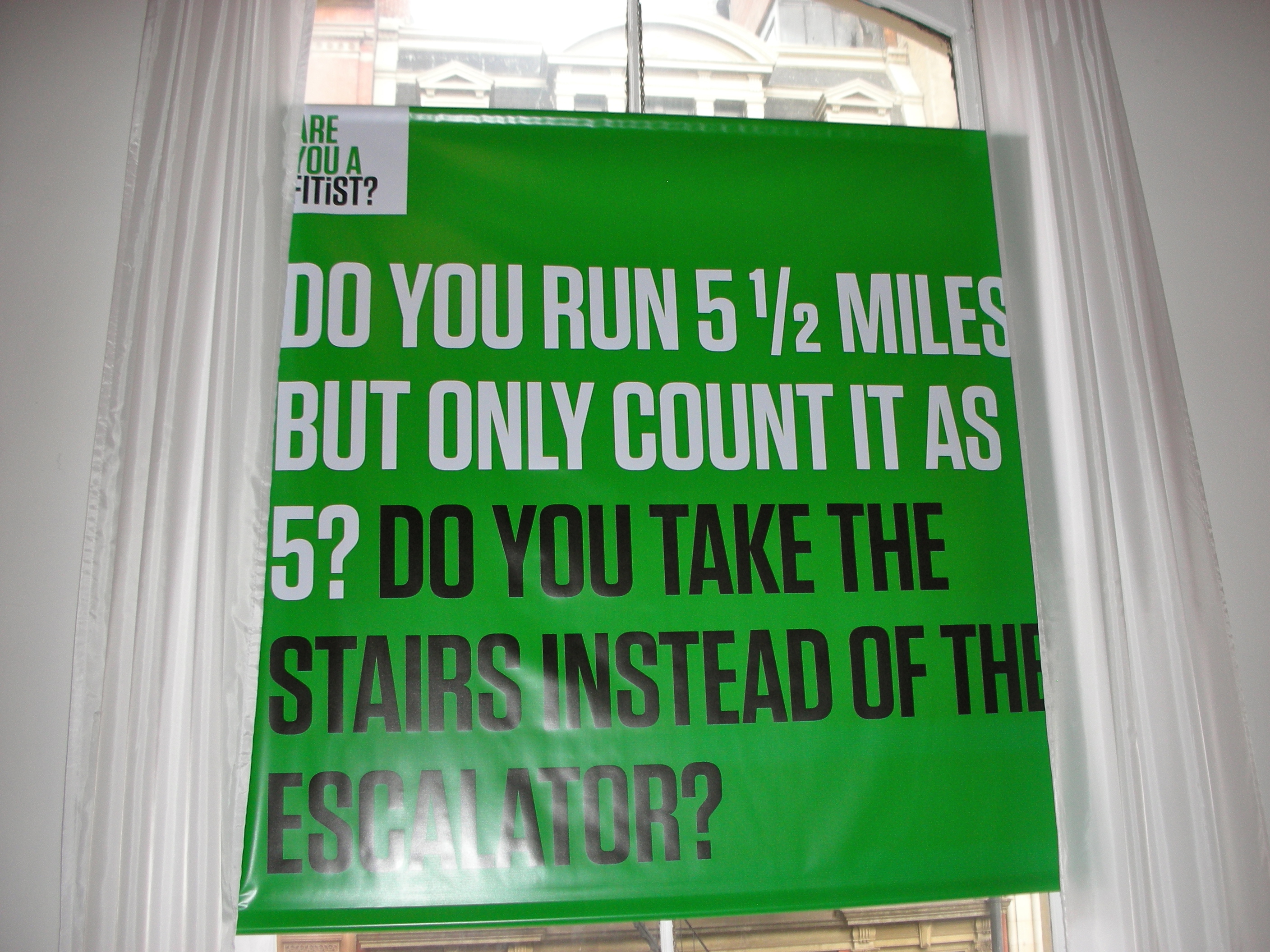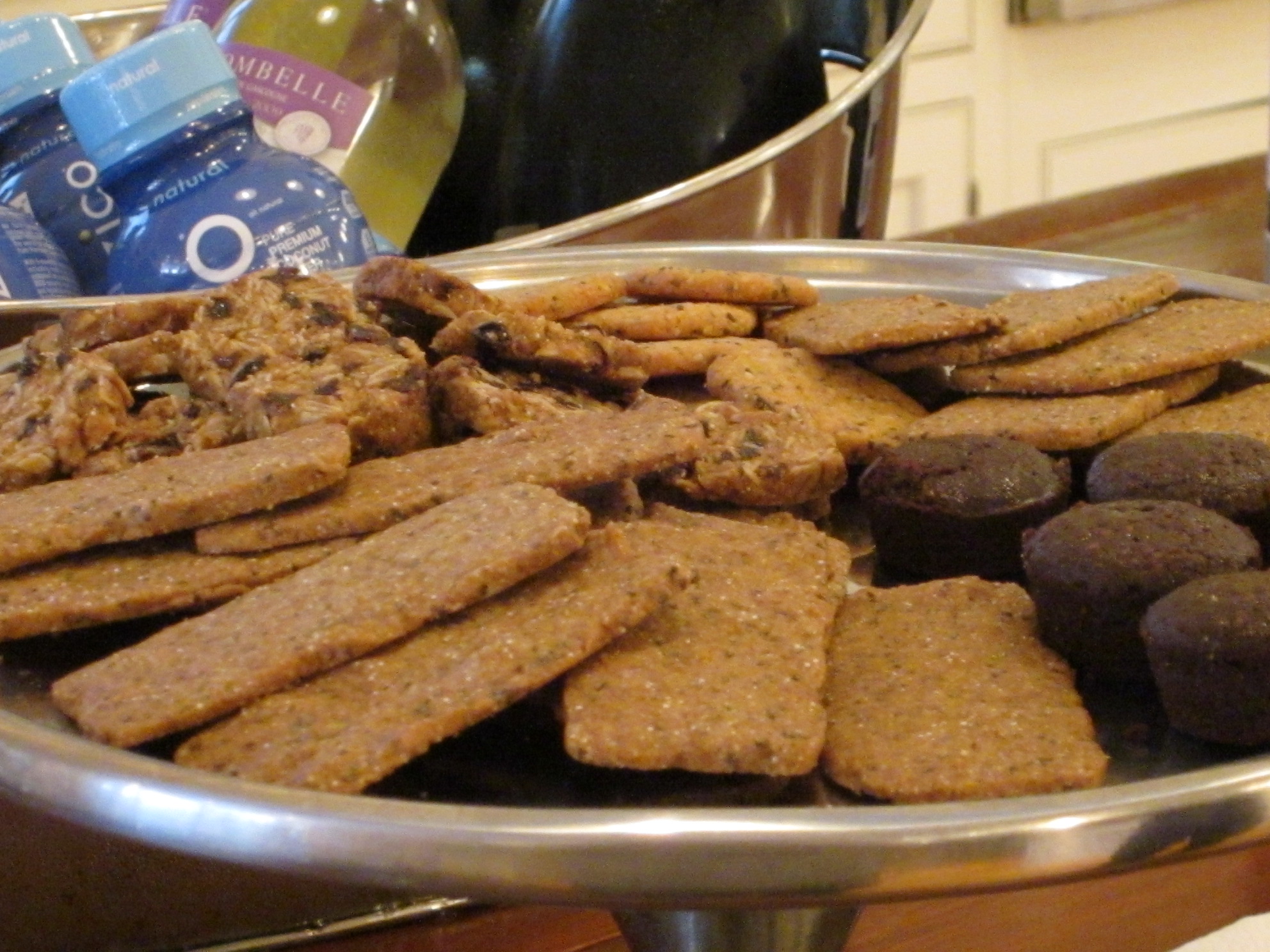 Michelle: How was the yoga?

Sarah: Yea, Kristin McGee does Bethenny Frankel's videos with her

Dori: good! i thought it was a really nice stretch to ease into the rest

Alison: It was fine. It was tough to get into it because of all the background noise, but I liked easing into the workout

And Kristin was adorable

I'd definitely take class with her again. She adjusted me in Downward Dog and I wanted to cry it hurt so good.

Dori: i would too
i would like to

Sarah: I actually started doing Kristin McGee's videos when I was in high school - so it was fun to see her in person!

Not sure where/if she teaches in the city though

Dori: she does
she teaches at a couple places

Alison: I would have loved a printout with all the classes we took, the names of the instructors, where they teach, etc. That would've been helpful

Michelle: Melissa just sent me a write-up and she said "Kristin set herself apart from the other instructors by being one of the most friendly and encouraging instructors I have met. She consistently said, "Great,' 'You all look gorgeous,' 'and 'This is beautiful.'"

Mallory: She did say that a lot

Sarah: Definitely the most personable

Sarah: Slash, she didn't yell at us like the bootcamp/kickboxing instructors
So that was pleasant

Alison: Yeah even though yoga wasn't my favorite, SHE was my favorite

See now...I liked being yelled at :)

Alison: After yoga we did boxing! I liked that, too.

Dori: i didnt love that

Michelle: Was that the Aerobox?

Alison: Yes

Sarah: Yep

Alison: Lots of fast punching

Dori: i thought it was a little boring

Sarah: It was fast-paced, but a little repetitive/predictable

Alison: I liked it because that was when I really started to SWEAT—my favorite workouts are ones that have me dripping

Sarah: Nothing we haven't seen in Tae Bo

Alison: Right

Dori: i dont like that it was uneven

Alison: I also didn't like that we never switched sides!

Dori: we did everything on one side

Alison: Exactly!

Dori: nothing on the other
yep

Dori: i wonder if my left elbow being sore is because of only doing uppercuts on that side

Mallory: It was kind of bizarre to go from one workout to the next and so on but I think it gave us a good sense of how versatile the program can be

Sarah: Absolutely agree - the idea behind FITiST is "muscle confusion"

Mallory: It was a promo
I mean, we all get the point

Mallory: It was an amuse bouche to their fitness style

Alison: Well said

Sarah: And last night was a great example of ping-ponging between completely different fitness styles

Michelle: For sure... what was after boxing?

Alison: After boxing we did Pilates, right?

Dori: yes

Dori: Real Pilates
i liked that one, found it challenging and my abs burned the entire time
i now want to go there and take a class

Michelle: Melissa said the instructor's lecturing "felt a bit patronizing"... but that "she really emphasized form, and her corrections made a huge difference."

Alison: I didn't like that one. I thought the instructor was a little annoying :-/

Dori: she was annoying
but the workout was great i thought

Sarah: I agree - it was a bit preachy

Mallory: She was very traditional in her approach to the method. It was tough but that's how pilates was founded

Alison: I honestly don't remember the moves we did in that one

Dori: she was really trying to sell us on pilates

Alison: But pilates is pilates is pilates to me

Dori: a lot of chair pose with weights

Sarah: in that she promoted her style of pilates as the real, most accurate approach to the method

Alison: oh right right. arms back by the elbows.

Dori: it seemed different than all the other pilates ive taken actually

Alison: sorry, by the ears

Dori: thats why i liked it

Sarah: I think that what she was going for

Mallory: She was straight out of the Joseph Pilates textbook. Now in gyms we get a mess of workouts. I liked that she was back to the basics

Sarah: She was trying to get back to the basics
Ha - exactly

Mallory: Sarah we are so on the same page!

Michelle: Definitely different instruction types for different folks! And after that was the Warrior Fitness Bootcamp, right?

Dori: yes
not my kind of thing

Mallory: Ughhhhhhhhh

Dori: but a great workout

Mallory: So much yelling!

Michelle: LOL

Alison: This was my favorite.

Sarah: Very military

Alison: I'm all about the kind of cardio that makes me feel like my heart is going to beat out of my chest.

Dori: they would say we were doing 15 push-ups, but then they would make us start over a hundred times because one person didnt yell out the count

Alison: I liked the drills, the two lines and the yelling

Sarah: We were lined up in two rows

Alison: We did the class in two vertical lines, not all spread out

Mallory: Agreed, however I remember thinking that if I were a FITist member and took bootcamp classes for a month it would be a great complement to my other workouts

Dori: it was all exercises i knew from Refine Method
but taught in a way that bothered me

Michelle: Alison, probably goes back to the whole "yelling motivates me" thing for you, right?

Alison: Totally

Dori: yelling does not motivate me!

Alison: I liked that we were doing the same hardcore, ass-kicking type of stuff that military dudes do. That's kind of empowering.
He wasn't treating us like pretty girls in Lululemon clothes

Sarah: I actually liked how minimalistic it was - very 'back to the basics' with the exercise we did

Alison: Sorry, they* not "he"
Two guys taught

Dori: the actual exercises i liked, but as i said, i do those in Refine all the time

Dori: and no one there yells at me!

Alison: They wanted us to sweat

Michelle: What kind of exercises were they?

Alison: Lots of jumping jacks

Sarah: Burpees, jumping jacks

Alison: Squat thrusts

Sarah: pushups, planks

Mallory: I give them points for clear instruction and simple exercises

Dori: definitely

Alison: Again, all basic stuff

Mallory: Not easy, but simple to follow

Alison: But I find that yelling the counts makes me work twice as hard

Dori: it was the stopping and starting over
i like knowing how to pace myself

Alison: You're forced to further engage your core and focus more on breathing so you can scream the numbers

Dori: so i can pace myself for 15 reps

Dori: but when they tell us 15 and it ends up being 25 because they make us all start over
that annoys me

Mallory: I liked that

Alison: I felt the opposite

Mallory: It keeps you honest

Dori: i had to sit out the last ones
because i paced myself for 15 and worked hard in the beginning

Alison: Yeah, I thought I was going to do 15 reps...but then I'm forced to do 20 and realize that I'm capable of that. It was a good push

Dori: and i realize im not!
haha

Sarah: I agree - and I liked that it encouraged participation

Mallory: Agreed!

Alison: Yeah the "move as one unit" thing I liked

Sarah: No one wanted to be the person not counting off or participating that made everyone start over

Dori: the person in front of me didnt count at all

Michelle: Melissa said, "the instructors were loud and demanding, but they had a hint of playful attitude and congratulated us at the end."

Michelle: After was ReAB Pilates? What is that?

Alison: Blech. Didn't love.

Sarah: This was more of today's pilates

Dori: i didnt like the second pilates
boring

Mallory: By ReABpilates we were all exhausted

Sarah: All of the moves you'd find in a standard studio/gym class

Dori: yeah

Alison: I just wanted to lay down
(or eat brownies)

Mallory: Me too

Michelle: Haha... so nothing especially exciting, huh?

Sarah: It was also difficult because we took breaks between the 15 minute workouts
and it's SO easy to fall out of 'workout mode'

Alison: Yeah, it wasn't structured at all

Sarah: especially when you're taking 8 mini classes

Dori: and they started late

Michelle: Okay, what about the last one? FlyBarre?

Dori: AWESOME
i loved it

Alison: Flybarre was great, even though I was beat by that point

Alison: After bootcamp I seriously debated between getting back on the mat or drinking a glass of wine

Dori: their music was phenomenal and timed perfectly

Mallory: I. Loved. Flybarre.

Dori: the arm section was impossibly hard

Sarah: I really liked FlyBarre - it was the one workout that made me want to try out the studio

Alison: The girls were adorable. Super cute. I appreciate an attractive leader, is that bad?

Dori: it was better than the class i tried in the studio actually

Sarah: No, I agree

Alison: Yeah they came off as the most prepared and professional

Dori: i want to go back and take it with one of them

Sarah: Good motivation

Alison: They were very polished, very put together and worked well together

Mallory: I mean, we are all intensely in their target demographic

Dori: it was an intense, perfectly timed 15 minutes that worked everything

Mallory: But with that, they sold it really well...we all bought it!

Alison: Also, the name alone carries a heavy weight. FlyBarre & FlyWheel have a great reputation, so I felt like I wanted to work hard to impress them

Sarah: Absolutely - they managed to hit most of the basic portions of a barre class

Alison: Also, if doing FlyBarre means I'll look like the little instructor, then game on

Dori: and their music was just so fun
right! her butt!

Alison: So perky! Hehe

Dori: they went around making corrections too

Mallory: I was next to two guys who were having a hard time. It's always kind of motivating to feel strong in a workout that is tough for guys too

Dori: which is so important

Michelle: LOL! What's the music like for FlyBarre?
Oh, the poor dudes.

Sarah: Very Z100

Mallory: Pop hits
Yess

Dori: and the exercises were timed to them

Mallory: We might as well have been at jingle ball

Dori: so we stopped the arm work as soon as the song ended

Sarah: Hahaha

Dori: it was all just choreographed so well

Sarah: I actually wish I'd gotten their names - because I'd love to take a class with either of them

Alison: Again, a onesheet would have been helpful!

Michelle: Sounds like you all loved it... and as a whole, I think each workout appealed to at least one of you, which goes back to what one of you were saying, about it being a kind of amuse-bouche

Mallory: Yes
Mallory: A single bite of each workout. I'd go back for more of many

Alison: Yes, very true
And the brownies were really good. Did I mention that yet?
I was a big fan.

Dori: the cookies were better

Michelle: And there were reps from food and beverage companies there?

Alison: I'm not sure who the food ladies were.

Dori: i have no idea, but our gift bags had a bar that was labeled -- same company maybe?

Dori: it was like a personal chef type company
cant remember the name right now

Mallory: She was from Food Matters

Dori: yes!
foodmattersnyc.com

Mallory: Great cookies

Dori: that bar in the gift bag was delicious

Michelle: Yum... so how did the event end?

Dori: Alison and I left after flybarre
there were 2 more workouts
but they started so late and it was almost 9

Alison: Yeah I was beat...most people had left by that point. I felt bad, but it went tooooo long

Mallory: It was a lot of exercise but a solid event
I mean, I see how many classes I could take through FITiST

Alison: It's a good idea for sure.

Dori: yes i was happy that it all felt like a real workout

Mallory: Agreed

Michelle: Would you sign up for FITist after that event, do you think? Or recommend it to others?

Alison: Personally I wouldn't because I already belong to a full-service gym.

Mallory: I would!

Dori: i would like to do a trial membership if possible
see how it works

Alison: But I would recommend it to people who aren't sure what they want or who want to try lots of different things.

Michelle: Could it be too overwhelming for people who are new to working out altogether?

Dori: no i bet they would ease people into it based on their fitness levels -- at least i hope they would

Mallory: I think it would actually be perfect for that person. They would create a program specifically for you and walk you through it

Alison: And the studios are all boutique studios where you're likely to get more direct attention than at a big gym
Alison: That could be reassuring

Mallory: Yes

Michelle: Cool! So, closing thoughts on the event, on FITiST?

Sarah: I love the idea of FITiST - I'm actually kind of surprised no one has centralized boutique fitness prior to this

Dori: agree

Mallory: I think it's a great concept

Alison: I'm so glad I was able to attend and to try things I may not have signed up for on my own. It's a smart idea for one-stop fitness shopping.

Mallory: Yes

Sarah: I like that it makes boutique fitness more accessible - and also that it allows you to try a good amount of affiliates

Dori: especially for people who go to a gym and have no idea what to do
this will give them a focused, effective means of working out

Sarah: One of the worst things about private studios is that you really need to commit to one type of workout to get any sort of loyalty rewards (i.e. purchasing monthly passes or large class packages)
Sarah: And FITist remedies that

Michelle: This was great, ladies! Thanks so much for joining and chatting!

Mallory: Good chat! Later ladies

Dori: bye bye

Alison: Great to meet you guys!
Good chat. Have a great day everyone!

Sarah: Enjoy your afternoon, guys!
---
FITiST bills itself as the "first one-stop booking website for fitness and willness," and offers 10 different workout plans with access to popular workout studios in New York City. The plans have names like "Intense," "Slim," "Body & Soul," "Bride," "New Mom," and "Rookie," and range in price from $150 to $760 a month, and are offered in one- to three-month chunks. You'll be able to book your classes and manage your schedule on the FITiST website, which is currently in beta.