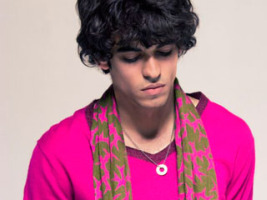 Matthew Williamson made a first stab at menswear with last year's collection for H&M, and this February he'll launch a first capsule collection for men featuring his signature blend of eye-popping colors and laid-back, jet-set style.
The current iteration includes a small fleet of everyday staples -- bright slim-fitting lightweight sweaters, beaded tees, and more than a few patterned scarves. As the designer told Vogue UK, "I wanted to start a menswear line of slim-fitting, luxury cashmere jumpers in a range of great colours. I know these jumpers will become season-less staples in my own wardrobe."
The collection will be available in February exclusively at Harrod's in London and Williamsons' various boutiques. For those who don't live near one of the designer's brick-and-mortar locations, you'll be pleased to hear that Williamson just launched e-commerce in February, so you can shop for both his menswear and his womenswear online at matthewwilliamson.com. Alas, it don't come cheap: the pieces range from about $300 for the scarves to $720 for the printed cashmere.
Matthew Williamson is located at 415 West 14th Street