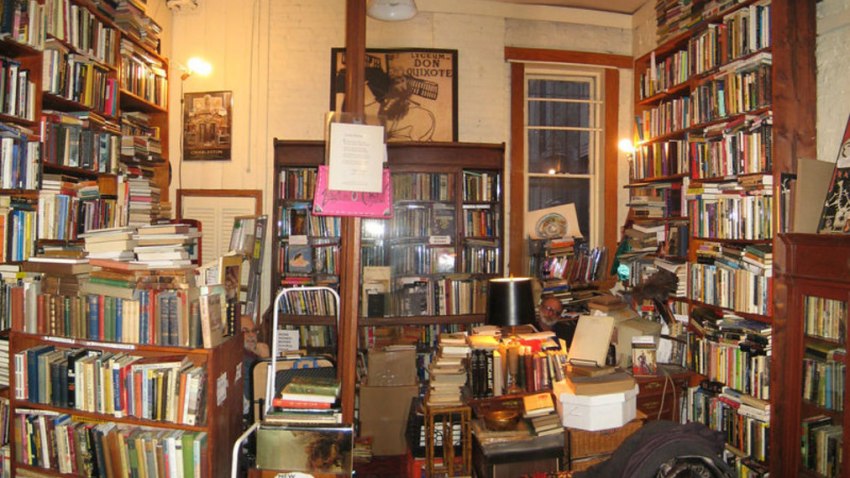 The Village has long been know as a literary hub: The most narrow townhouse in New York (nine-and-half-foot-wide feet wide and now renting for $10,000) is where Edna St. Vincent Millay wrote her Pulitzer-prize-winning poetry. At The White Horse Tavern, Dylan Thomas had his final drink (and promptly keeled over) and it has served as the home of writers from Thomas Paine (who died above what is now Marie's Crisis) to Mark Twain to Hunter S. Thompson. So it only makes sense that the 'hood is a great place to shop for books (and Marc Jacobs, apparently, but let's not get into that right now).

But there has been a bit of movement lately in the book-selling world as Biography Books-- the store across from Magnolia Bakery, where out-of-town cupcake munchers would often pose for photo-ops -- moved further down Bleecker Street. It also changed its name to BookBook (perhaps they wanted to emphasize that they sell the old versions of books with spines and covers and pages -- "book books" if you will--and not e-books. As in, do you sell e-books? No, we only sell book-books, didn't you see the sign?!).

Another move quietly (some might even say unnoticed) took place last weekend: Left Bank Books, a small shop that boasts a fine collection of rare, out-of-print and first edition book books, moved further west, abandoning it's cave-like location on West 4th for a considerably better locale, at least in terms of attracting foot traffic, on Hudson Street next door to The Chocolate Bar. Perhaps Left Bank can make its proximity to the confectionery work for them the same way Magnolia did for Biography. Although it seems unlikely that Charlie and the Chocolate Factory or From Morphine to Chocolate: Everything You Need to Know About Mind-Altering Drugs will fly off the shelves as quickly as did Sex and the City, it might be worth a shot.

Both stores as well as 50 other sellers from around the country will be hawking the written word -- everything from first edition detective novels to medieval texts -- at this weekend's Greenwich Village Antiquarian Book Fair. Now in its 31st year, the fair raises money for P.S.3, the school where the fair is also being held (on Hudson between Grove and Christopher). The fun begins on Friday at 6 p.m. and runs through Sunday. Tickets are required (ranging from $12 to $5 depending on which day you go) and are good for all three days.

Copyright FREEL - NBC Local Media