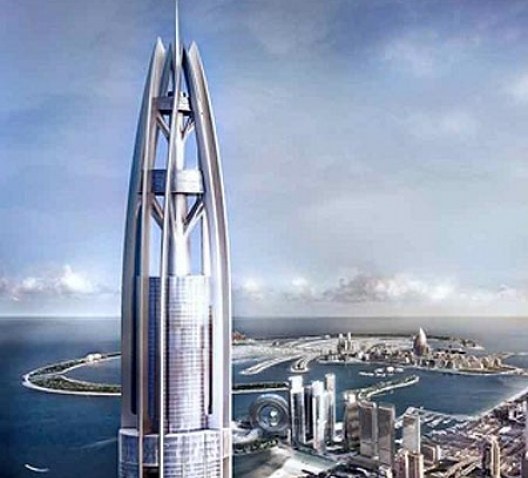 In advance of the massive real estate/development conference Cityscape Dubai 2008, desert megadeveloper Nakheel teased a "grand announcement" that would show "how Islamic elements are inspiring Dubai's future." Design blog Dezeen has the reveal, and it's a massive mixed-use development called Nakheel Harbour & Tower, the centerpiece of which is a skyscraper designed by architecture firm Woods Bagot. Nakheel Tower, which is this week's World's Tallest Building, is actually four individual towers stuffed inside a single concrete structure. A crescent-shaped podium encircles the base, and the tower "incorporates elements from great Islamic cities of the past - the gardens of Alhambra in Spain, the harbour of Alexandria in Egypt, the promenade of Tangier in Morocco and the bridges of Isfahan in Iran." In addition to hotel rooms, housing, retail and parks, the development will have a transportation hub and "the world's first inner-city harbor." Note: All pirates will have their hands cut off.
· Nakheel Harbour & Tower by Woods Bagot [Dezeen]
· Nakheel Harbour & Tower Press Release [Nakheel]For more stories from Curbed, go to curbed.com.
Copyright CURBD