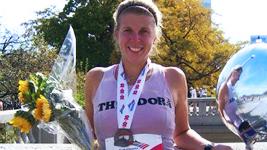 "Tomorrow will be the day I start getting healthy." We've all thought it – probably even said it. I believe most people want to be healthy and exercise, they just don't know where to begin. Instead of throwing on sneakers and moving, they make excuses. "I'm tired, I worked all day, there's a 'Teen Mom' marathon on TV."

The truth is, the only excuses are the ones we allow. Most of what keeps us from being healthy is psychological – it's those mental excuses that hold us back physically. Sometimes all we need is a little motivation to get past that mental barrier.

I found such motivation in a place I didn't expect: Twitter. I discovered that there was an entire online community of people passionate about fitness and running, eager to exchange tips and stories, 140 characters at a time. These athletes were ordinary people, just like me, doing their best to live a healthy lifestyle while trying to balance and maintain their work and personal lives.

Many of their stories were positive – new distance records, a new personal push-up record, completed marathons. Other stories were not quite so happy – unfinished races, unreached goals, injuries. Good or bad, all the stories showed passion and an eagerness to keep pushing forward. I discovered that their passion incited me to become more passionate myself. Their words motivated me to get out there so I could add to the conversation.

This week, I want to introduce you to Theodora, one of the first "everyday athletes" I began following on Twitter and author of the fitness blog Losing Weight in the City. I'm not quite sure how I first discovered her, but she and her blog have been an amazing inspiration for me. I hope she inspires you too.
---
Theodora B.
28, Hell's Kitchen, New York City
Social Media Manager

What type of fitness are you into?
Early on, I was logging a lot of time indoors at the gym. When I realized I could work out outside, I started running. Six half-marathons and one full marathon later, I can't stop! I love the runner's high and the awesome running community in NYC. Lately, I've also been really into barre classes. I love Physique 57 and Barre Burn at Equinox. They feel like a great combination of yoga and strength training.

Was there an obstacle you felt like you had to overcome before you started getting really into fitness?
Myself. I was the obstacle. I lost 50 pounds two years ago – before that, I didn't think I thought I was worth it. I had zero confidence at the gym and felt like everyone was looking at me. Eventually, I realized that I had to get over that to get to where I wanted to be. That's when things started coming together.

What keeps you doing it?
You never regret a workout. There's no feeling in the world like how you feel afterward. And I love watching myself improve – whether it's getting faster running or feeling myself getting stronger, I'm addicted to progress.

What gets you out the door to the gym or to train on a crappy day?
My blog and Twitter. I hate writing that I didn't work out. Having a race on my calendar and being nervous about feeling unprepared also helps. I'm much less likely to blow off a workout if I'm leading up to a race.

How do you keep it fun?
I keep it fun by mixing it up. I love running the most, but I try plenty of classes so that I never get bored. I also try to make working out a social activity when I can by running with friends or going to classes together.

What advice do you have to help people get started and stay on track?
Find something you love. It doesn't have to be running if you hate running! If it doesn't feel like exercise, you'll keep doing it.
---
Theodora brings up a great point. Working out doesn't have to be work. Find the fitness routine that's right for you and remember that your routine doesn't have to be routine at all. Have fun, mix it up and do what feels right. Just get out there. After all, today could be the day you start getting healthy.
PREVIOUSLY: Anton M., Marathoner on 7 Continents
Ben Waldman is a writer, advertising art director, social media consultant and marathoner. Born in Queens and raised in NJ, Ben now lives in Manhattan, and can be seen almost daily running along the Central Park Loop, along the rivers and through the streets. He is tightly connected to the New York fitness community through his blog and on Twitter.