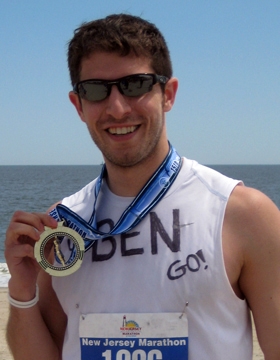 I'm a runner, but I wasn't always. While I've been somewhat of a gym regular since college, my exercise generally consisted of some weights and minimal cardio.

My first real run came in 2004. I noticed postings for a race in Central Park that promised '80s one-hit-wonder bands at every mile. That was all the motivation I needed. My friend Andrew and I trained our butts off for three weeks and barely survived the 6.2-mile race. Sadly, that motivation faded at the finish line. I ran on and off for years, plagued by injury and (mostly) laziness.

I believe most people want to be healthy and to exercise, but they just don't know where to begin. Some are embarrassed, others are afraid that they'll be physically judged by their lack of fitness, and then there are those who are just intimidated. It's easy to make excuses – I'm too old, I'm too fat, I have a bad knee. Sometimes all we need is a little help getting motivated.

The moment I gave up making excuses was on one of my first double-digit long runs. I was 8 miles in when I hit a wall. My legs were tired. My brain started telling me to give up. I reasoned that all those marathoners are superhuman freaks – that no one is meant to run like this.

Then a single-leg amputee ran by and it hit me – if he can do this, I have no excuse.

This moment taught me a pivotal lesson: the only excuses are the ones we allow. Most of what keeps us from being healthy is psychological – it's those mental excuses that hold us back physically.

I want to help you get motivated – get you past that mental barrier. Every post will profile a different everyday athlete – runners, cyclists, yogis, gym-fanatics – just a regular person who is out there doing it. Someone like you and I -- because if they can do it, we have no excuse.

To kick off this column, I felt it appropriate to feature someone who helped motivate me – my friend Anton.
ANTON M.
47, born and raised in New York
TV commercial producer

What type of fitness are you into?
I am a runner first and foremost. I rotate in some swimming and biking, but can be inconsistent. I do light weights to help upper body and core strength.

What got you running?
I woke up one day and realized I was overweight and in terrible shape. After I got past the fear of "what others would think," I started jogging around my neighborhood. Six months later, I was 40 pounds lighter and ran ten 1.3-mile loops, a half-marathon. That was December 2003. In March 2004, I ran the L.A. Marathon, my single greatest experience. I cried at mile 23 knowing I would finish.

What keeps you doing it?
I always run because of how it makes me feel – it's like physical meditation. I can start out with a resentment or anger toward someone or something and by the time I'm finished, I've mellowed or figured out a solution.

How do you keep it fun?
At least twice a week, I run without a watch. Those runs are for ME, not for an upcoming event or a contest with myself. I am so content with putting in the miles and showing up; I'm not worried about time.

What gets you out the door to the gym or to train on a crappy day?
Pick a race and sign up. Once you commit to a date, it gets a little easier. I lace up and run in any weather. I have older shoes for the rain. I have run in Antarctica and Africa. You can run smartly in just about any condition, although I don't recommend going out in a snowstorm or the middle of a hot, Africa-like day.

What advice do you have to help people stay on track?
Give yourself a break. Even the best in the world have bad races and training days. Go out and do the best you can. Push yourself harder just a little at a time.
In December 2007, Anton became the 153rd man to run a marathon on all seven continents – quite a long journey from his average-Joe beginnings. He's just an ordinary guy who set his mind to something and did it. His story inspired and helped transform me from an occasional runner to a two-time marathoner and eight-time half-marathoner. I hope he inspires you, too.

Ben Waldman is a writer, advertising art director, social media consultant and marathoner. Born in Queens and raised in NJ, Ben now lives in Manhattan, and can be seen almost daily running along the Central Park Loop, along the rivers and through the streets. He is tightly connected to the New York fitness community through his blog and on Twitter.