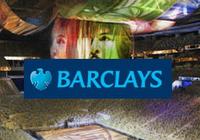 There's some sorely needed good news for developer Bruce Ratner this morning. Barclays Bank, which paid $400 million for the naming rights to the Atlantic Yards arena is not bailing. The bank had an escape clause in its agreement allowing it to bail or renegotiate the agreement if ground wasn't broken by the end of this month. (Which is most certainly not happening thanks to ongoing lawsuits, etc.) The bank's CEO tells the Record in New Jersey via press release that "Barclays is unwavering in its commitment to the Barclays Center and we are very pleased with our long-term alliance with our great partners, the Nets and Forest City Ratner Companies. We are excited about being part of the continued renaissance of Brooklyn, and we eagerly look forward to opening night at Barclays Center." The release, however, says nothing about whether the bank will still be paying $20 million a year for the naming right or whether that will be renegotiated. The amount is quadruple what Prudential paid for naming rights to the arena in Newark. Meanwhile, Atlantic Yards Report notes that Forest City Enterprises stock continues to perform even worse than the Nets. It dropped more than 5% after yesterday's announcement to $7.16, "continuing a stunning decline." How bad? Well, it was over $70 in May 2007, over $50 a year ago, and $19.79 on October 10. That has to hurt.
· Barclays Still Loyal to Nets Cause [The Record]
· Barclays recommits to naming rights agreement, but details are scant [AYR]
· Atlantic Yards Coverage [Curbed]
For more stories from Curbed, go to curbed.com.
Copyright CURBD