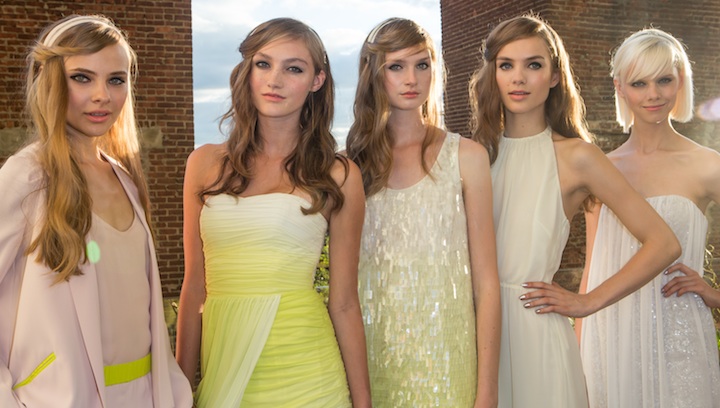 A portrait artist, live keyboard player, and ping-pong table (decked out with Erin Fetherston paddles) were part of the scene at the Standard Hotel for Erin Fetherston's Spring/Summer 2013 collection.
The collection, "Sealed With a Kiss," was filled with playful pink kisses, Siberian tiger prints, and modern-day flapper dresses. Fetherston—decked out in her own silver and white beaded and sequined dress (looking like one of the models)—also threw in a few serious pencil dresses and a pantsuit for those who actually have to report to work.

While the corals and yellows brightened up the evening sunset, it was the black-and-white sequined gown and metallic floral short suit that stood out as pieces to covet come March. A nice marriage of edgy and sweet—think silk georgette minis with exposed zippers—the collection had a little something for everyone, with an abundance of ruching and draping.

In typical Erin Fetherston fashion the collection was a mix of whimsical, flirty, and quirky: nude palettes were trimmed with neon, and traditional styles done with nontraditional fabrics (plastic fringe anyone?).

And just when you thought the night was over, the crowd—which included the likes of Damon Dash and Padma Lakshmi—was shuffled into a nearby room to watch a performance by 17-year-old soulful songbird Alexandra McDermott.
Related Stories:

VIDEO: Erin Fetherston's Day-to-Night Dresses
Rachel Comey Offers Grown-Up Evening Looks