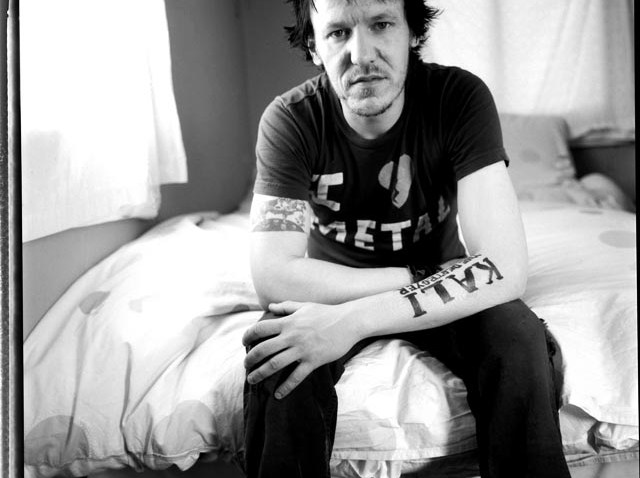 Elliott Smith always seemed like he could see for miles – perhaps he also predicted this. Seven years after his untimely death, the brilliant Portland singer/songwriter is being honored by his former label, Kill Rock Stars, with the November 2 release of An Introduction to… Elliott Smith, a collection of tracks from his seven solo albums.
As the title suggests, the album is not a greatest-hits package. Smith was a heralded figure in indie circuits and college radio, less in mass audiences, and his sapient, plaintive prose and finger-picked acoustic guitar is well represented in these 14 tracks. The seminal Either/Or (1997) is emphasized, perhaps for its excellent use of his raspy vocals and its easy melodicism, and the comparatively buoyant "Waltz #2," XO's ephemeral single, is tellingly positioned in the first moments. His moments of mainstream success are also logically included: "Needle in the Hay," from his 1995 self-titled sophomore album, which was re-purposed into the score of The Royal Tenenbaums, and the devastating "Miss Misery," his original, Academy-Award nominated contribution to the Good Will Hunting soundtrack (which he memorably performed at the ceremony in a regal white suit).
Smith died on October 21, 2003, at age 34. Since his passing, Kill Rock Stars has also released New Moon, a double-CD set of demos and unreleased recordings from the mid-90s. An Introduction is more than fitting now for this deeply missed poet.
Complete track list for An Introduction to… Elliott Smith
1. Ballad of Big Nothing - from Either/Or
2. Waltz #2 - from XO
3. Pictures of Me - from Either/Or
4. The Biggest Lie - from Elliott Smith
5. Alameda - from Either/Or
6. Between The Bars - from Either/Or
7. Needle In The Hay - from Elliott Smith
8. Last Call - from Roman Candle
9. Angeles - from Either/Or
10. Twilight - from From a Basement on the Hill
11.Pretty (Ugly Before) - from From a Basement on the Hill
12. Angel In the Snow - from New Moon
13. Miss Misery (early version) - from New Moon
14. Happiness (single version) - from Figure 8