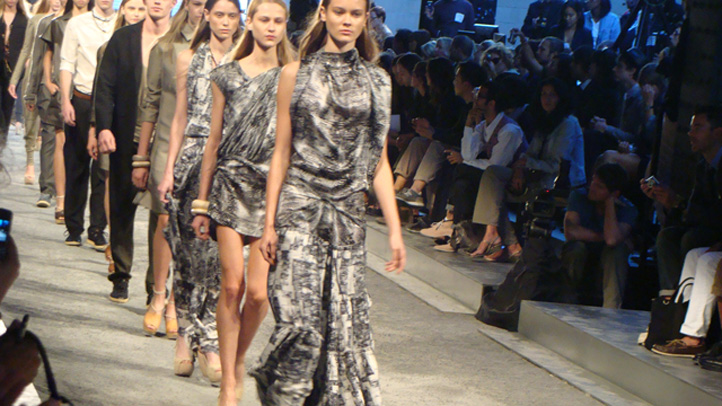 Last night, the day after Christie's took what The New York Times called "a more realistic approach to green fashion" with their "Bid to Save the Earth" runway show, boutique Oak brought the issue a bit further downtown.
The trunk show features Edun's Spring 2011 collection (pictured above at NY Fashion Week). Shoppers at Oak sipped champagne and browsed a tight group of wearable pieces cut in stark shapes of organic cotton poplin, black denim, silvery linen knits, and billowing mixed silks in black and sage green, all displaying what Ricky Hendry, one of Edun's designers, called "a light touch with a hard edge."
Many of those aforementioned pieces were produced in Africa, and had a label declaring 15 percent of the collection currently comes from the continent. The label has been criticized for scaling back its production in Africa since LVMH acquired a 49 percent stake in 2009, but as one of the first brands to bring organic cotton styles to stores like Saks, Barneys, and Bloomingdales, Edun remains a ubiquitous name in the conversation surrounding conscious fashion.
The brand's tumultuous trajectory since 2005 has given the fashion community the opportunity to learn from its steps and missteps. Now that LVMH is at the helm, Edun is taking a measured, no-nonsense approach to goals like building sustainable production to Africa and integrating environmentally sensitive materials – but not at the cost of aesthetics.
"You never want the factories to dictate what a collection looks like," said Hendry, of Edun's production partners in Africa, "but you do want to play to their strengths."
One of those strengths is denim, which Edun has successfully produced in Tunisia for several years now. When Oak manager John Swiatek was asked whether Edun had a best-seller, he didn't miss a beat.
"These jeans," he said, rushing to a rack of menswear, and pulling out a tapered pair in shiny black. He pointed out a dart below the back pockets that allowed for a roomier fit for "the guy that wants a skinny look but still wants it comfy up top."
In addition to the "skinny jeans for real guys" design details, the pants also came with a bracelet, made in Kenya, of recycled black beads, shreds of leather, and metal chain, dangling from the belt-loop, all for $198 – a veritable bargain at a boutique like Oak. Swiatek said the both the bracelet and Edun's mission help sell the jeans, but that wasn't the secret of their success. "They're just solid clothes," he said.