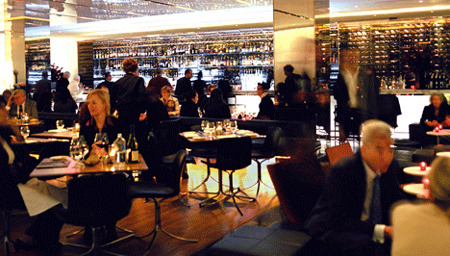 Summer Restaurant Week is on! Through July 31, out of the 250+ eateries participating, we bring you a crib sheet to our favorites.
Bar Room at The Modern
The Museum of Modern Art, 9 West 53rd Street, near Fifth Avenue; 212-333-1220. themodernnyc.com
Why: One, because it's a Danny Meyer joint. Two, Chef Gabriel Kreuther won the James Beard Award for Best NYC Chef. And three, next time you're in a foreign city eating a wilted sandwich from the museum concession stand, you'll think back fondly to your gorgeous, fleur-de-sel sprinkled meal at the Modern and smile.
What to order off the RW menu: The Modern's menu M.O. is of the popular little-dishes variety, and the restaurant week lineup offers nearly 30 of them -- you may want to plan a return trip. We'd start with the roasted Long Island duck breast with peppercorn-crusted apples or the tarte flambée, a thin tart of crème fraîche, onion and applewood-smoked bacon popular in Chef Kreuther's native Alsace. The crispy Atlantic cod with creamy sauce gribiche standing in for tartar is a regular-menu favorite; get it, or go for the beer-braised pork belly with sweet pea purée. Dessert calls for the hazelnut dacquoise – a buttercreamy layer-cake of sorts – with milk chocolate whipped cream. (See the full menu here.)
During Restaurant Week, lunch at participating establishments is $24.07, dinner $35.00. Reserve early.
See our previous Restaurant Week picks.
Copyright FREEL - NBC Local Media