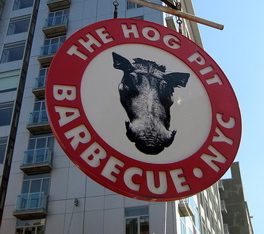 FLATIRON— The iconic Meatpacking District biker bar and bbq spot The Hog Pit, which is being being forced to leave its original space in January, has finally found a new spot. Even though the body is still warm, they just closed on a deal, brokered by Kamali disciple Karma McDermott, to take over the former Black Pearl space on West 26th Street. The recent subject of Gordon Ramsay's Kitchen Nightmares, Black Pearl closed for a number of reasons, but it's doubtful the space was a factor.
As for the Pit, they are beginning construction ASAP, and since they still have a few more months on their MePa lease, there is the definite possibility that both old and new locations will be open simultaneously.
We hear the owners want to try to recreate the old Hog Pit vibe in the new 2400 sq. ft. space. And they'll still be serving the same menu of bbq, perhaps giving Hill Country, directly across the street, a run for their money.
· The Shutter: Even Ramsay Can't Save The Black Pearl [~E~]
· The Hog Pit to Close Next January [~E~]
— photo creditFor more stories from Eater, go to eater.com.
Copyright EATER