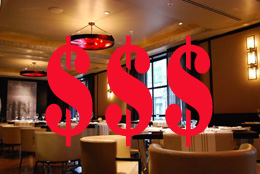 A couple weeks ago Eater San Francisco uncovered some interesting scams going around the restaurant industry. One, which some industry insiders tell us has been making the rounds for ages, involves a diner billing a restaurant for some dubious dry cleaning. The other is more far fetched, involves some suspicious emails, and has made it to New York.
Here's the ploy: A person overseas emails the restaurant—in this case the West Village's Philip Marie— with the desire to book the place for three consecutive group dinners (in a letter that resembles those spammy emails from dying African princes with millions of dollars for you if only you share your credit card).
In the New York version, the scam artist tells the restaurateur to charge 5,000 pounds to a credit card deposit 4,000 of it into the bank account of their "travel consultant." The assumption of course is that later it turns out the card is fake and the restaurant owner gets stuck with the bill.
The scammer's side of the correspondence follows in chronological order:
Hello,
I am Edmund Brooks.I want to book dinner for my group of workers. They will all come for dinner in your place as from November 20th,21th 22nd,and 25th 2008 by 7:00pm each day for 4days. They are 10 in number. Get back with your response if there is availability in your restaurant so that i can book immediately with my credit card. I shall be waiting for your prompt response so that we can proceed with the payment arrangements. Kind Regards, Edmund Brooks Tel: +447005800533 Fax:+447024014681

——
Thanks for your kind and prompt response.Can you please forward to me your proposal of 3 or 5 different menus for each day.We will like to start with a 3 course menu for the first day.

1. Number of guests: 10 adults
2. Time: 7.00 pm every evening
3. No dietary concerns:
4. We are flexible on our budget
5. Mode of Payment:Prepayment by credit card
6. Booking dates: 20th,21th, 22nd and 25th of November 2008

I want you to get me 3 different menus as well as their prices. I shall be waiting for your prompt response so that we can proceed with the payment arrangements. Kind regards, Edmund Brooks.

——
Thanks for your reply and assistance so far.I am glad to tell you that we have concluded all payment arrangements. I will send to you my Visa credit card details for a deposit of Pounds 1,000. for our booking, this is because we are not sure of what the guest might want to eat and drink. Moreover,we also made an arrangement with a logistics agent who will take care of the following logistics to include.
1) Flights
2) Airport transfers on arrival and on departure
3)Transportation logistics during their stay

However, the prepaid agent has just informed us that their credit card merchant/terminal is faulty and is currently undergoing online upgrading and therefore cannot charge credit cards.So,we kindly solicit that once you are in receipt of my credit card details,you are required to charge Pounds 5,000. in your account then deduct Pounds 1,000. as initial payment deposit for the dinner(meals and drinks) and transfer Pounds 4,000. to the prepaid flight/travel consultant, whose information I will forward to you once this is confirmed.

N.B: All checks and balances will be made with you on 25th November which is the final day of the booking. So confirm this and provide me with your

1. YOUR FULL NAME....................
2. ADDRESS.....................................
3. PHONE NUMBERS.................... for office records.

You are also to deduct the visa fees and taxes involved in processing this amount.
PLEASE CONFIRM IF THIS ARRANGEMENT IS OK AND REPLY PROMPTLY TO ENABLE
US PROCEED.
Regards,
Edmund Brooks.

——

Its so nice to hear from you once again. We really do look forward to having a nice vacation in your hotel. However, according to my last e-mail, I told you that we have contacted a travel consultant that will be providing us with: Flight bookings, Airport transfers both on arrival and on departure.

However, the travel consultant does not have credit card facility to process my credit card at the moment.

So, I am going to give you my credit card details to:
1. Charge the total of 5,000 GBP from my credit card.
2. Deduct the amount of 1,000 GBP as deposit for our accommodation bookings.
3. Then send the remaining balance of 4,000 GBP to the travel consultant so the can make the flight/transportation bookings for us.

So, kindly confirm that you will assist us with the above arrangements and as soon as I have your confirmation, I shall forward my my credit card details for you to charge immediately.

I hope to hear from you soon so that we can proceed and conclude with our bookings ASAP.

Kind regards,

Edmund Brooks

Tel:+4407031992644
Fax: +447005930653
· Eater PSA: Restaurateurs, Beware the Gucci Blouse Scam [~ESF~]
· Fun With Scams: The Group Dining Email ScamFor more stories from Eater, go to eater.com.
Copyright EATER