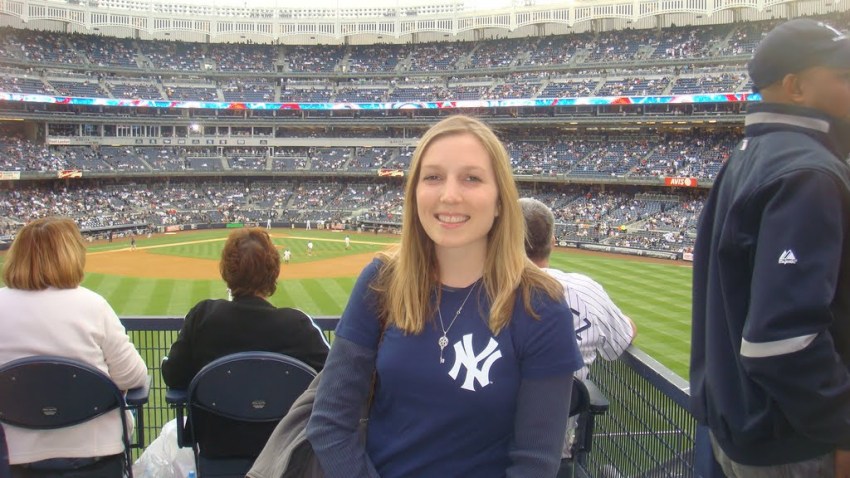 Take me out to the ballgame
Take me out with crowd...
While the old tune probably won't be changing any time soon at Yankee Stadium, the ballpark is offering much more than peanuts and Cracker Jack these days.
As a foodie and baseball fan, one of the first things that caught my attention when the new stadium opened three seasons ago was the buzz about the redesigned concession options: sushi, Brother Jimmy's, fruit stands -- I was excited to explore it all.
On my first trip to the new Yankee Stadium, I was overwhelmed by all the food choices before me. There were cheese steaks on my right, buttery popcorn on my left, and pretty much everything else in between. If I wanted a big greasy splurge, my bases were definitely covered.
But as a health-conscious flexitarian, hot dogs and fried foods aren't usually what I am craving. So I began the hunt to find options that what would satisfy my taste for the stadium experience without leaving me in a seventh-inning energy slump.
The task was made one step easier when I noticed that Yankee Stadium lists the calories of each item on the menu. This made some choices pretty simple right off the bat — no thanks, 790-calorie onion rings! Even though it did take some time to navigate floor after floor of sprawling concession stands, in the end, it definitely paid to weigh my options.
So, after two years of cheering on my team at the new stadium, I can already tell you there will be plenty of tasty, figure-friendly meals, snacks and drinks available when the 2011 season kicks off on Thursday. Also, I won't pretend that I never splurge on soft serve or fries, but I try to be a good teammate and share whenever possible, which helps cut down on the calorie consumption.

Here is my list of hits and misses:
Sushi from Soy Kitchen: The veggie, spicy tuna and salmon rolls are all less than 200 calories. Pair them with an avocado salad or edamame, and you have one healthy ball park meal.
Pizza from Famous Famiglia: Pizza typically gets a bad rap, but at 260 calories a slice, this is one of the better ball park dinner options. While the calories are comparable to a small hot dog, the pizza has less fat and fewer additives.
Noodle Bowls from Noodle Bowl: The chicken, beef and tofu noodle bowls are packed with veggies and are around 350 calories or less. Skip the pan-fried noodle bowls, which are double the fat and calories.

Sandwiches and Burgers
The BBQ Pulled Chicken Sandwich at Brother Jimmy's or a Rocket Single is a modest but reasonable splurge, and the satisfying portions make them a better bet than the mini sliders that resemble tiny hockey pucks.
While subs seem like a healthy sandwich option, watch out for ones overstuffed with cheese, meat and fatty condiments. You could substitute mustard or share one with a friend, but a cheaper option is to just bring a sandwich from home.
Snacks, Sweets, and Sides
Fruit: Melissa's is a little farmer's stand offering organic fruit and fresh salads. This is a great place to pick up an apple to round out your meal nutritiously. Melissa's also has one of the shortest concession lines at the stadium.
Fries: An order of the coveted Yankee Stadium garlic fries or Johnny Rockets fries range from 250 to 330 calories. This makes them a good option if you are sharing with a friend and craving fries. Don't strike out with Nathan's fries which manage to add over 600 calories to your meal and come to an astonishing 1200 calories when ordered on their own! (How is this possible?!)
Cotton Candy: If you're looking for a traditional snack, cotton candy may not be incredibly healthy but it will satisfy your desire to munch for a fraction of the calories of Cracker Jacks, pretzels, popcorn or peanuts.
Peanuts: While peanuts offer healthy fat, fiber and protein, the gigantic bag clocks in at over 1000 calories, so you have people to share it with or a good sense of portion control.
Soft Serve: It's hard to pass up a cute little baseball cap of creamy Carvel soft serve, but at over 500 calories, it's best to grab an extra spoon and share it with a friend. Score extra by having a healthy dinner.
Beverages
Water is clearly you're best choice. Since you can't bring beverages into the stadium, you'll have to cough up $5 for it. If you like beer, Bud or Miller Light can be a surprisingly good option. If you pick the single-serve bottles over the large cups, it's only around 110 calories. On the other hand, the fresh-squeezed lemonade looks deceivingly healthy with real lemon slices, but has more calories than two beers. Coffee is a low-calorie way to warm up (it gets cold in the stadium at night!)... While quenching your thirst, keep in mind that souvenir cups are so large that they often double the calories — not to mention cost — of your purchase. If you're looking for a memento, save your ticket stub.
These are just a few of my favorite ball park finds. I'm excited to be cheering on the home team this week, and I know that there are enough healthy options to keep me fueled through nine action-packed innings... Let's go Yankees!
Melissa is a NYC resident and workout junkie. She keeps motivated to stay fit and active by trying out new workout classes, signing up for races, and keeping an eye out for a fun fitness challenge. She hopes to complete the New York City Marathon for the second time in 2011. Read more about her healthy adventures in New York City at her blog fitnessnyc.wordpress.com.