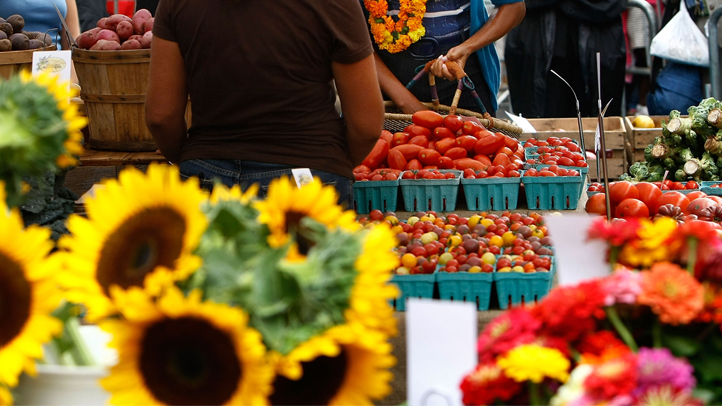 There's no better time than the summer to cart home fresh produce and herbs from the farmer's market and prepare a whole week's worth of delicious, easy lunches. It's the perfect way to save money, eat healthy and enjoy a new dish each day.
The Daily's suggestion: pasta salad. It doesn't get much easier than chopping up some veggies and herbs, splashing in some dressing, tossing it all up and toting to work.
The Daily's tips:
Cook a pound of whole-grain pasta (or tomato or spinach pasta -- stay away from bleached) at the beginning of the week. It will stay fresh in the fridge for at least four to five days. Plus, whole-grain pasta offer fiber and B vitamins, and they don't contain the sodium that so many chain restaurant pasta do.

Pick up whatever fresh vegetables catch your eye at the store of farmer's market. "With the pasta salad in the summer, lots of herbs," registered dietitian Judy Caplan told The Daily. "You can throw in fresh basil, fresh rosemary, chives, even mint, lemon balm -- those add a lot of flavor." Caplan suggests in-season vegetables, which can be lightly steamed: tomatoes, peppers, zucchini, yellow squash, and cucumbers.

Nothing is off-limits: "No one wants to eat the same thing for lunch every day, but the beauty of all that cooked pasta in your fridge is that it is a blank canvas for your plate," says The Daily. Caplan suggested lightly browned raw nuts, fresh fruit (like strawberries or pomegranate seeds), and cheese -- like feta, goat cheese, or fresh mozzarella -- or healthy fats like olives or seeds and nuts."
"The good thing about having that [pasta] in the fridge is you come home and you're dead tired, but all you do is you throw the pasta and a little bit of olive oil and you add some vegetables and you're good to go for dinner. It's so versatile," Caplan told The Daily.
RELATED: Mushroom Pasta with Rapini and Parmesan
What's your favorite way to prepare a fresh, healthy pasta dish?