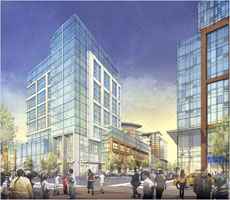 Back in March, a tipster noticed hardhats and tractors on the site of the planned redevelopment of East 125th Street.

Our tipster was sharp-eyed indeed, because city officials broke ground on the project this week, GlobeSt reports. What's happening now is the first phase of the game-changing East Harlem Media, Entertainment and Cultural Center.

It's ultimately supposed to be a mixed-use megaproject with offices, housing, shops, a hotel, a cultural center, and a plaza.

But it's starting off small: phase one calls for 49 affordable housing units and 5,600 square feet of retail space, at a cost of $23 million out of a total project price tag of $700 million. But since the project was supposed to break ground last year, we're just glad to see a few signs of life.

Welcome back, buddy! The estimated completion date for the whole thing is 2016.
Copyright CURBD