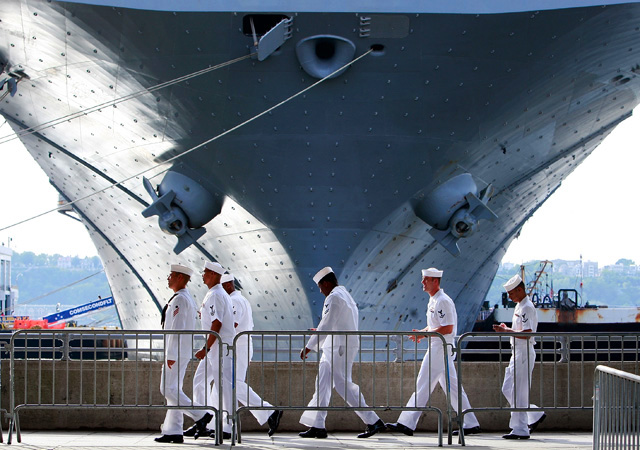 The Dutch are coming -- again -- and they're bringing more than the $24 they supposedly paid for Manhattan.

The Netherlands government this year is spending $8 million promoting and staging events and exhibits in New York and elsewhere to celebrate the 400th anniversary of Henry Hudson's voyage on the river that would later bear his name.

That's twice as much as New York state is splitting three ways to pay for quadricentennial events commemorating Hudson and French explorer Samuel de Champlain's voyages as well as belated bicentennial recognition of Robert Fulton's steamboat trip in 1807.

Some of that foreign funding can be seen in action Saturday, when a fleet led by a pair of 17th-century Dutch ship replicas lifts anchor in New York City and sails up the Hudson River for Albany. The Dutch government's funding includes support for the Half Moon, a 20-year-old replica of Hudson's ship, and the Onrust, a newly built 50-foot yacht built by volunteers at an upstate historic site.

"I'm very excited to see it,'' Hugo Gajus Scheltema, consul general of the Netherlands, said of the Onrust in a telephone interview from Manhattan. "For us, this is basically a celebration of 400 years of Dutch-American ties.''

The original Onrust, Dutch for "restless,'' was the first Dutch ship built in New York. Launched in 1614, its captain was Adriaen Block, who produced the first detailed charts of the New York and New England coasts.

"He was an old hand at it. By the time he built the Onrust, he knew his way around,'' said Don Rittner, founder of the nonprofit historic preservation group that built the replica at an old Dutch farm in Schenectady County.

Hudson, an Englishman, was working for the Dutch when he arrived in the New World on Sept. 3, 1609. He and his crew took the Half Moon upriver as far as present-day Albany.

Although the yearlong commemoration of the Hudson voyage began in January with exhibits in New York and the Netherlands, this weekend's start of River Day essentially kicks off a three-month series of events aimed at boosting tourism in Manhattan and Albany and points in between.

One of the biggest is River Day, which started Friday evening with a ceremonial blessing of the fleet near the Statue of Liberty in New York Harbor.

Gov. David Paterson joined state and Dutch officials, many of them clad in yellow raincoats, under a tent at Battery Park as clergy members from various religions blessed the fleet.

"We must recommit ourselves to maintaining the Hudson and make sure it is as pure as it was when Henry sailed it 400 years ago,'' said Paterson, who called the river an inspiration.

Dozens of vessels, including the Half Moon, the Onrust, a 1930s fireboat, and the 1987 America's Cup ship, gathered under a steady rain just yards offshore.

Organizers expect more than 300 vessels of various classes and sizes to participate when the fleet heads upriver Saturday morning.

The voyage ends June 13 in Albany, after stops at various yacht clubs and marinas along the way.

Other Hudson "quad'' events include the Macy's Fourth of July fireworks display, which is being moved from the East River to the Hudson River in honor of the explorer's 1609 voyage. More large-scale events are planned for September, including another gathering of ships in New York Harbor and an arts festival on Governor's Island off the southern tip of Manhattan.

Organizers said plans are in the works for Holland's Prince Willem-Alexander to visit New York City in September, when the Half Moon, Dutch naval vessels and other ships gather to mark Hudson's voyage exactly 400 years earlier.
Copyright AP - Associated Press