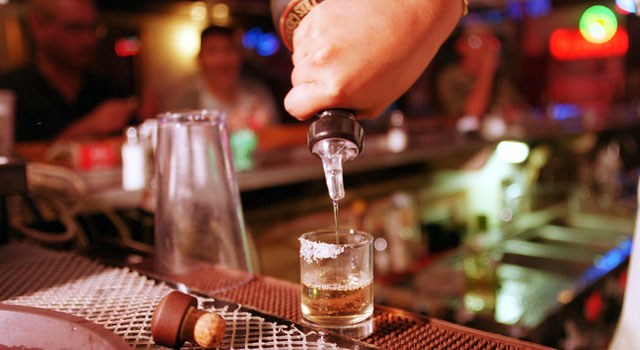 Cinco de Mayo, as Wikipedia everybody knows, commemorates the Mexican victory over the French in 1862's Battle of Puebla. And you know what those countries have in common? They like to drink. A lot. On a Tuesday. So it stands to reason that the second-booziest day on the NYC calendar (after St. Patrick's Day, of course) is Cinco de Mayo. Here are a few notable happenings around town on Tuesday May 5, plucked from metromix's roundup:
Know how many bars are participating in this year's Cinco pub crawl? Fifty, as in five-oh. We dare you to hit even a quarter of those for $3 tequila shots and then try to remember what historical event this day commemorates. Or your own name.
The trio of Mercadito restaurants already had us at "all-you-can-eat tacos," and now they sweeten the deal with live mariachi music.
La Esquina may be one of your hipper, classier taco eateries, but they're not immune to the crowd-pleasing appeal of the free tequila shot: Cabo Wabo Tequila Blanco goes down every hour Tuesday night.
At Elizabeth, fifty cents -- as in five-oh -- buys you a shot of Tanteo tequila or a taco during happy hour from 4 to 7PM, making it the happiest hour of all.
Do you know your way around a hula hoop? We're not sure what a giant plastic ring you gyrate onto your hips until you're seasick has to do with Mexico, but at Whistlin' Dixie's, the hoop contest winner drinks free all night.
See mucho mas places to feel all historical through liquor at metromix.
Copyright FREEL - NBC Local Media