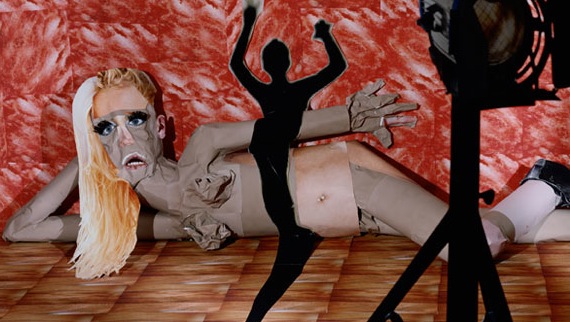 If you thought being a photographer was about carrying a camera around your neck and capturing profound and heartwarming moments like someone dying or a little girl eating an ice cream cone (catch it just before it drips!) think again.
The New Photography 2009 exhibit at the MoMA showcases six artists still on this side of the hill who, according to associate curator Eva Respini, "aren't going out onto the street and making photographs of the real world." What are they doing instead?

Brooklyn's own Daniel Gordon prints images that he finds on the internet and creates 3-dimensional collages that tell a story or set a scene, which he then photographs. "Sometimes it comes to life, and sometimes not," he told Whitehot Magazine. As inspiration, he lists Alfred Stieglitz and Georgia O'Keeffe and also, Dr. Frankenstein, "whose 'practice,'" he says, "is similar to mine when he is creating his monster: slamming together body parts to create a new being."

Sterling Ruby, another one of the chosen six, admits to leaving his studio -- even going as far as Italy -- for his photograph, "Artaud," which is based on graffiti he photographed in a pedestrian tunnel. He later added digital effects -- images culled from the Internet, of course -- as well as his own drawings to create what he calls, a glossy "graffiti-based sensibility of layering."

The best way to check out the exhibit is Wednesday night at a special after-hours exhibition (yes, there will be drinks) hosted by PopRally, the program responsible for baiting a younger crowd of museum goers with the likes of Sigur Rōs, Spike Jonze and Cat Power. The coolest part? A digital photo booth will allow guests to construct their own take-away photographs using backgrounds designed by the artists.

Buy tickets -- which are half the price of regular museum admission -- here.

Copyright FREEL - NBC Local Media