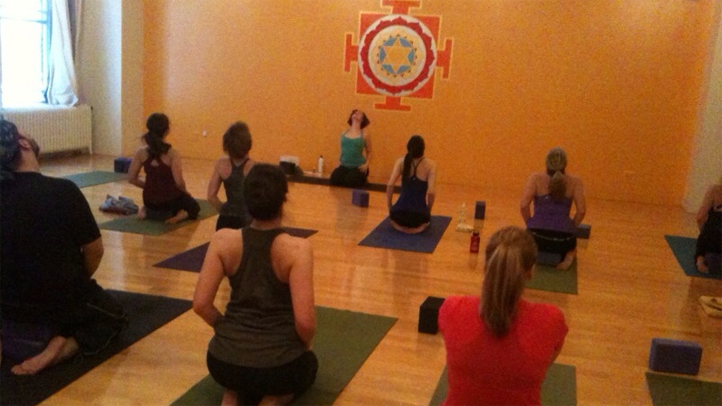 One of my most vivid memories with my dad was asking him, as a four-year-old, to play "the money song." Chances were his multi-piece stereo unit was already on, high-tech speakers blaring. As my dad complied with my song request, we would sing and dance together in our gray-carpeted living room.

Later on, long after my father died, I once again heard the familiar lyrics: "But it's gonna take money/A whole lot of spending money/It's gonna take plenty of money/To do it right child." That was George Harrison's "Got My Mind Set on You."

Or, for me and my dad, "The Money Song."

My love for The Beatles was instilled in me from the day I was born. So when I heard about a yoga class set entirely to the music of the fab four, I wasted no time signing right up for the next class held in Manhattan.

As far as I was concerned, a class called Beatles Yoga is awesome by default. Really, could it even be bad at all? I could lie on the floor for 90 minutes just listening to The Beatles and call it a great class.

I arrived excitedly at Midtown's Om Factory, surprised by how stunning the space was for a studio that ranges just $15 to $18 for a single class and offers complimentary mat rentals.

I grabbed a bright blue mat and set up shop in the front of the room. I wanted to be front-and-center to fully soak up 90 minutes of The Beatles. MacKenzie Pause, creator of Beatles Yoga, began class with soothing advice and quotes from the band. I felt relaxed and at ease. She instructed the students to have fun, encouraging us to smile and even sing along.

I expected a slow flow but the class was broken down into a set of asanas (yoga poses) to go with each individual song. Some songs included a flow, but the majority partnered with specific combinations of poses.

This class was a fantastic stretch and relaxation session, though it was not so much a workout. With my rigorous exercise schedule, I rarely make time for more restorative yoga; this was exactly what I needed.

Matching specific songs with the movements set a uniquely fun atmosphere for the class. Imagine laying on your back, holding your knees close to your chest and rocking from side to side, singing "Na na na na na na na, hey Jude," along with people you've never even met. Or pulsing up and down in chair pose, snapping along to "Dear Prudence." The energy in the room was powerful, even with the relatively slow pace of the practice.

While non-vigorous yoga can sometimes be tedious, I never felt bored at all. The 90 minutes flew by and I was shocked when I found the clock for the first time and there were only five minutes left in class. After an incredibly peaceful savasana set to John Lennon's "Imagine," MacKenzie quoted the band one more time before concluding the session.

At this time, Beatles Yoga does not have a permanent home. MacKenzie travels between New York and her home state of Florida teaching the class. You can try it yourself this spring, with classes scheduled in both Brooklyn and Manhattan. Prices vary based on the studio. If you email MacKenzie before class, she accepts song requests.

As much as I enjoyed this relaxed yoga session, I am craving a faster-paced Beatles Yoga flow. Luckily for me, MacKenzie is already scheduled to return to Om Factory for an intermediate level class on April 30.
And you better believe I already requested "The Money Song."
Dori Manela is a writer, content manager and social media consultant. Raised in Queens, Dori now lives in Manhattan, taking as many exercise classes in NYC as possible in search of the perfect workout. She started Dori's Shiny Blog in November 2007. As her passion for fitness grew, DSB turned into a health & fitness blog. With the help of her favorite social networking site Twitter, Dori has connected with other bloggers, boutique fitness studios, companies and readers to share her love of working out.