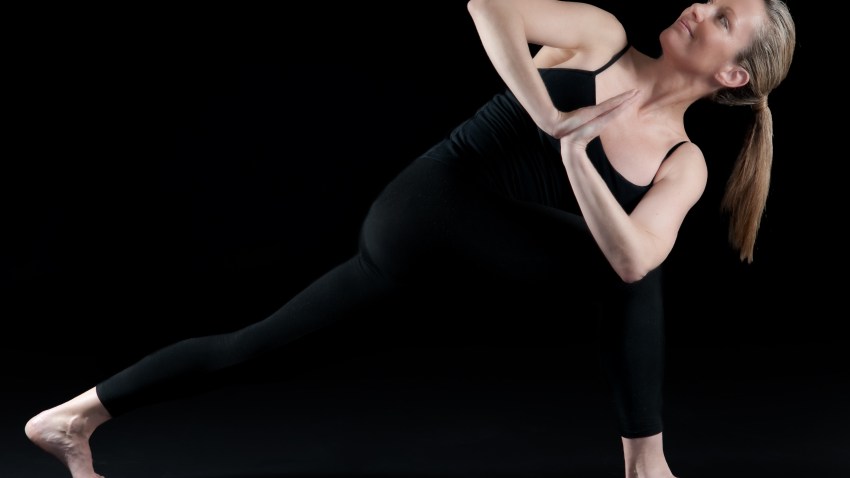 I just experienced the hardest workout of my life. And yet I don't feel like I pushed myself to my limit. I'll explain.

Pure Yoga invited me to a special workshop at their East Side location called Bassett's Bootcamp with Loren Bassett. According to the description, it will boost your metabolism and burn calories by combining hot power yoga, high-intensity cardio intervals, strength training and intense core work.

I am not usually a hot yoga person. I've taken hot yoga a few times before, but my neurosis about things touching me while I work out – makeup, jewelry, certain types of clothing and, yes, sweat – have always caused me to feel uncomfortable in an environment where I feel sweat oozing and dripping everywhere.

But the rest of the description sounded incredible to me and I couldn't pass this up. A friend of mine warned me to "brace myself." I was nervous, but excited.

Loren Bassett introduced herself and chatted with the students before class. I always feel less intimidated at a new place when the instructor is so welcoming.

When I entered the room, it was all set up for each student – and what a set-up it was. In my space, I had the following: a special sticky hot yoga mat, four small towels, one large towel, two yoga blocks and two five-pound dumbbells that were made out of what felt like bean bags. I'd never seen weights like those and was excited to see how they would be used.

The 75-minute class began with standard yoga asanas and vinyasas and progressed into the most challenging yoga sequence I have ever done: mixed in with yoga poses were strength exercises, such as push-ups, low pulsing lunges and fast squat intervals.

To my disappointment, we only used the bean bag weights once. But I loved how we used them: while holding a plank with our hands on the weight, moving from a push-up to a row, back to a push-up to a row on the other side. While I love strengthening combinations like that, I was unable to get into the work to the best of my ability because I was so overwhelmed by the heat and the sweat.

I often found myself skipping exercises in favor of toweling off, or not being able to fully do some of the sections – like jump-backs, which I love – because it was just too slippery and my heart was racing in the heat. When I made the effort my muscles were on fire, but I felt a little nauseous since I am not used to these temps, and I took multiple Child's Pose breaks.

That said, Loren was a wonderful instructor, always coming around to correct my form in ways that improved the entire pose. I have incredible respect for the other students in this class. I like to think I am in pretty good shape, and I often feel that way in my favorite classes like Refine Method or Core Fusion Cardio, but the people who choose to take Bassett's Bootcamp are on a different level.

I really do think this class would be a more perfect workout – and more accessible to people at all levels of fitness – in a non-heated room. Bassett's Bootcamp is the most magnificent combination of traditional yoga with strength and cardio interval training I've seen. But because of the temperature, I feel like I performed the strength aspects far less than I am capable. Of course, I am sure many people want the calorie-burning and muscle-loosening boost of the heated room – but when I work out, I like to make sure my form is perfect and I am pushing myself to the max. I was unable to focus on either here, and I left feeling simultaneously defeated yet wanting more.
Dori Manela is a writer, content manager and social media consultant. Raised in Queens, Dori now lives in Manhattan, taking as many exercise classes in NYC as possible in search of the perfect workout. She started Dori's Shiny Blog in November 2007. As her passion for fitness grew, DSB turned into a health & fitness blog. With the help of her favorite social networking site Twitter, Dori has connected with other bloggers, boutique fitness studios, companies and readers to share her love of working out.