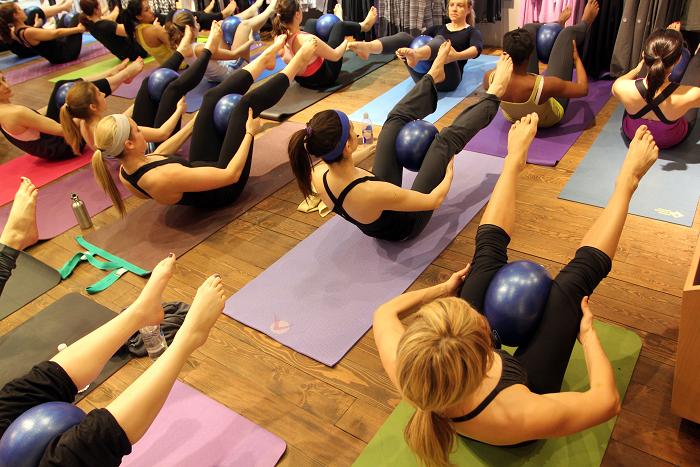 Few things can get me over to the Upper West Side. As uptowners like myself know, subway lines don't run under Central Park, which leaves the bus our only option for cross-town travel. Sundays are even worse for public transportation, with service dramatically reduced. And if you're anything like me, most months of the year are just too cold to stand outside and just... wait.

However, while I might eschew dinner with friends or shopping on the Upper West Side, there is one thing I will make the trek for: A fitness class.

Which was exactly what I was doing early last Sunday morning. I was especially tired from the precious lost hour of sleep on that Daylight Savings Time weekend, but I had to get myself over to Lincoln Square because this was no ordinary class -- it was a one-time New York City offering of barre3 from Well + Good NYC, taught by barre3 founder herself Sadie Lincoln.

I arrived at the Lululemon Lincoln Square location for this free barre-less version of the class. Forty women spread their colorful yoga mats out along the store's floor. Taking a class at Lululemon, by the way, is an exercise not only for your body but for your restraint; try holding a plank while wondering if the cropped pants hanging in front of you are available in your size.

Sadie (who trains Madonna!) took us through a yoga-inspired warmup and stretch, including cat and cow poses and downward dogs. We held two planks for about a minute each and went into the thigh portion. This was very much like a typical barre class -- squatting low and pulsing -- but without a barre for balance. Gluteal work was done on our hands and knees, while raising and lowering one leg behind us. As beads of sweat dripped down my arms, I felt surprised that I could be so challenged in such an unusual class environment.

The abdominal section was especially fantastic, where barre3's signature blue squishy ball rested under our lower backs for support but didn't take away from the workout. In other classes where I've used a ball for support during a long abdominal section, I didn't feel my abs working as hard. This squishy ball was designed specifically for this purpose, and because Sadie's instructions were so clear, I was able to achieve an intense abdominal workout while relieving any pressure in my back.

My only gripe was that aside from the planks at the beginning, the class offered virtually no upper body workout. I know we were limited because class was at Lululemon and not at the studio, but a set of push-ups or tricep dips would have turned this mat-based experience into a true full-body workout.

While this class was challenging, I would love to see what Sadie does with barre3 in its real environment -- a signature cork-floored studio with the barre along the wall. With Sadie's interest in expanding to New York City and New York City's interest in her class (Well + Good NYC co-founders Melisse Gelula and Alexia Brue were stunned that the event filled up in 30 minutes and they literally had a waitlist of hundreds more), I expect barre3 will be able to hold its own if it arrives in New York City.

Hopefully I won't have to wait for the cross-town bus to take it.

Read more about barre3 at barre3.com.
Dori Manela is a writer, content manager and social media consultant. Raised in Queens, Dori now lives in Manhattan, taking as many exercise classes in NYC as possible in search of the perfect workout. She started Dori's Shiny Blog in November 2007. As her passion for fitness grew, DSB turned into a health & fitness blog. With the help of her favorite social networking site Twitter, Dori has connected with other bloggers, boutique fitness studios, companies and readers to share her love of working out.
Do you have a New York City fitness story you want to share? Email us here and let's get talking!