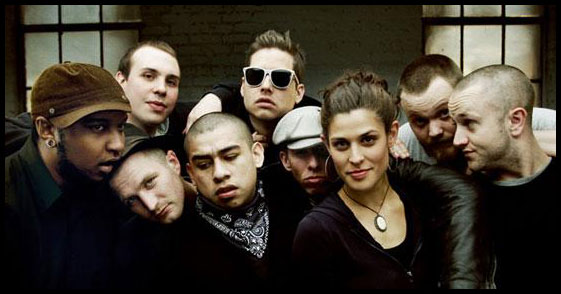 Minneapolis hip hop collective Doomtree have big mouths. The smarty pants have put out a grip of recordings under their collective headings, not to mention in solo endeavors and traipsing around with all the other bookbag Twin Cities crews. The band --comprised of rappers P.O.S., Sims, Dessa, Mictlan, Cecil Otter, and producers Paper Tiger and Lazerbeak -- is touring now on the heels of its No Kings November 2011 release on Rhymesayers.
Nonstop Sound caught up with Dessa and Mictlan as the crew sped from Portland to the Bay Area recently.
UPDATE [5:40 p.m.]: The Bowery Ballroom, where the group was to play with F. Stokes on Thursday night, Feb. 16 is closed tonight due to a broken water maine. Doomtree will be at the Gramercy Theater and all Bowery tickets will be honored.
Nonstop Sound: What are you up to right now?

Mictlan: We're in separate vans right now. We're headed down to Berkeley to do an in-store at Amoeba records.
Dess: We've been on the road 11 hours, we made a stop in southern Oregon last night after putting in a lot of hours on the the road. We're excited to do the Amoeba this evening and then we've got one day off. We have one evening off until tomorrow's show in san Francisco.
NS: What does you guys do on off days?
D: If we can I think a lot of us are going to sleep. These past two drives have been pretty crazy. We've done them pretty early van calls and then you put in like eight hours, nine hours on the road and then you get to the venue and run as fast as you can, set up the merch booth, soundcheck, play the show pack up, go to the hotel and do the same thing. We don't have too many days off on this tour. But we did end up doing a lot of goofin' off backstage, in the few moments before going to be and after waking up.
M: I know I have some laundry to do. San Francisco is always a good place for us. Or maybe we'll give each other tattoos. me and P.O.S. have been doing that a lot. Or we might just fall asleep.
NS: I didn't know you had a history of tattooing each other.
M: P.O.S. has always been getting tattoos while on the road. He knows a lot of tattoo artists around the country. On the last Doomtree tour is when I started getting more tattoos and we started doing that. We didn't have a machine with us but people we need in different cities would come set up at the hotel. I got a tattoo outside of venue in New Orleans in a Winnebago on my hand one night.
NS: What is that tattoo?
M: It's a row of teeth. Like eight teeth. It's on my left hand. But on this tour, P.O.S. brought a bunch of tattoo gear. We were anticipating the same thing that happened last time. Because once we posted a picture of tattoo on Twitter, every tattoo artist friend we had online started hitting us up.
NS: You said you're in separate vans. How many people are you carrying around right now?
D: We've got ten with us this time around. We have a Doomtree tour van that we've got nicknamed mountain that carries the bulk of our merchandise and six of us. And we rented a minivan for this tour that we're rolling around in with all our gear. This is a larger entourage than we've traveled with before. In addition to the seven members of Doomtree, we have our tour manager, his name's Loopy, and we have and or other who is a non-preforming member of Doomtree who deals with our merch and online branding. And then there is a guy named Chris who is our official videographer this time around.
NS: I heard the Boise show went off this time. How do you put together a live show when you have so much material to pull from?
D: Much of this is actually focused on No King which was the album we put out at the end of November of last year. We do no-holds-barred high-intensity non-stop shows for just shy of two hours and this time around it's focused on No King but we also do the crowd favorites from old solo releases. And a lot of the songs that featured more than one emcee. It ends up being a really energetic show.
M: We're doing the whole album every night and it's about 45 minutes. We're playing around two hours. So that leaves a couple solo songs each and a couple collaborative songs that we always do. So there isn't really too much for trying to decide what's what. And I think… we're a week in and we're trying to hash out these new songs. This is the first time we've played them on tour. I think it's going really well. But all in all you know it's Doomtree shows… we practice and we rehearse occasionally but usually it's by the seat of our pants. We try to do the best you can every time. It's always a circus. But you usually have fun and it generally works out.
NS: I've seen some videos and it can get pretty wild. I'm looking forward to the show here.
D: We are too man.
NS: Yeah. Bowery Ballroom. It's a big venue.
D: We're big people. We've lucked out. We've visited New York on most of our routing and we've been making visits for a long time and we've had some really swell shows. We're hoping to have a lot of people at the Bowery. I know that presale tickets are going well. We're looking forward to a really big event.
NS: What's the craziest thing you've seen from the crowd on this tour?
M: Every show seems like it gets like more and more fun. We did a couple smaller markets than we did a bigger one in Denver that was incredible. But in Seattle they were really starting to push up in front really hard. It was really electric in there that night.
D: And I think… was it in Vancouver Mike? I think I saw the most determined crowd surfer, because he was doing it to the most down tempo song. We're rocking something that was like 60 BPM and this guy was determined. And that was a lot of fun for me, just as an amateur physicist, to watch from stage.
NS: How are you channeling what's happening in US politics into what's going on with Doomtree?
D: I think that answer would be different for every member. The honest answer is I think I'm a stronger commentator on sociology than I am on policy. So I've been more interested and I think more capable of talking on human scales about the issues that I see around me than on national scales. That doesn't mean I don't have a vested in policy. But it means that, to be frank, I don't know if I'm the best-informed resource. I try to choose my topics carefully, that I'm not inadvertently talking out of turn on an issue I'm not fully informed about. That was a dodgy political answer though.
M: I guess I'll take the not-so-dodgy route. I totally agree with Dessa though. I feel like I'm a commentator or an observer on these things. I like to write them from a smaller standpoint or a more focused standpoint than just me. But at the same time, coming up in a time where I feel like I bought in to hip-hop being the voice and almost like a political party. I remember looking into what it took to be in the Zulu and to officially be a member and it felt like a really political thing. And as I became more of an artist and made more of my own music, I feel like those things just kind of… it didn't really connect with me anymore. And what really connected with me was just making music and connecting with the people, working through space and time and making awesome music is crazy to me, which seems a lot more fun to me. And I get older, too, I kind of have a grudge with hip-hop being in that place. Not taking politics or things into their own hands and depending on music to be there for them. I really don't like that. Rappers aren't politicians. When I listen to rap, most of the time I just want to be entertained. That's because I'm an adult.
D: I'd also say that at least speaking for myself that there's almost no explicit political message mixed up with us. But I think there's a lot implicit, politically in most art. I don't really have a lot of interest talking explicitly about feminism and equal pay for equal work in my hip-hop songs because I think that would make my hip-hop songs suck. But I think that telling true stories about women might share that same kind of messaging but asks the reader to draw their own conclusions when you just bring it down to a personal narrative instead of a political manifesto. And that's more effective for me. Because I think a lot of adult listeners are really turned off when you get a singer or a rapper or a writer of any variety who'll try and tell you how to live.
NS: If this is supposed to be so relatable does it bother you when things like Watch the Throne come out?
M: Yeah I feel that. I mean I feel completely disconnected from everything. I'm not a billionaire. At the same time I listen to other music where people pretend to be space aliens from a planet where they are creatures on a guitar. So it depends what I'm feeling that day. I like things on WTT. There are things that I don't like because I don't think there's as good as rapping on that was big as the hype was. I feel like I make struggle music. And those guys in some ways too, yhey've struggled to get where they're at and that's where they wanted to be and that's the route they've gone. Some levels it's relatable and some ways it's completely not. I've never been to Paris.
D: I would say that I don't categorically object to songs about sex, drugs, indulgence, or even pulpy stories of violence. But I do think it's objectionable when those stories set the tone for culture. It's hard to find other other human stories out there in predominant media sources. It's not really the existence of those kinds of songs that bum me out. Some are really great songs that happen to be about that. I think it's just the homogeny of it, that there's so little else that's really part of, making big waves in the mainstream.
NS: I was thinking about Minneapolis today and just over and over it was: Husker Du, A Prairie Home Companion and Rhymesayers.
D: That sounds like a bad cocktail party man.
NS: Wouldn't that be fun?
D: I don't know…
NS: How do you think the Twin Cities affect your sound?
D: This is a question that I haven't yet developed a good answer to. Because for me I cannot establish a vantage point from without myself to look in. Which is like, I don't really know what it would be like to grow in another family. I can make some speculations. But Minneapolis is probably so much a part of my musical experience that I'm not really sure how much is due to that environment and how much would have developed innately in another scene. I spent my entire musical career in Minneapolis. Mike might have a better answer because he lived in LA a good chunk of his musical life.
M: I mean it influenced me and changed the way I make music for sure. This comes with my relationship with P..O.S. and everybody in Doomtree. I'm from California. I lived briefly in Minnesota for ten months. That's when I met everybody, like eight out of ten people in Doomtree. That was the first time… no one in my generation that made music. My brother was a DJ but he was eight years older than me. Minnesota, those were my first shows I went to, some of my first live shows. It was always as a kid I remembered it being the first time for those things. It influenced me in the way they do the scene, in the way the rock scene works. And when I moved here six years ago and I was making music before that. I definitely had more of an LA sound. And that's like… I've always had a Doomtree sound and I don't even know if I can explain what that is. It's more when we started hanging around each other. We're always around each other, that's what Doomtree is and that's what the sound is. I think it just comes more in the way that we make music, our approach or the way we look at music. Being surrounded by so many friends and different people and the history of Minneapolis. I think it shows. Like Dessa says, it's hard to explain because it's something we're still trying to define coming out of Minneapolis.