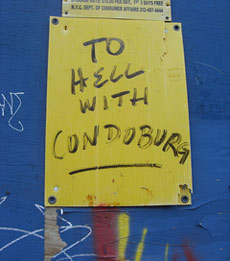 NYU's Furman Center for Real Estate and Urban Policy has really hit the books this month. The number-crunchers just released an interesting study on the city's recent rezoning history, and today the Furmanites have unleashed a doorstop of a report called State of New York City's Housing and Neighborhoods 2009 (download it right here). One mission of this 143-page tome? To tally and interpret just what happened during that crazy real estate boom, b. 2000 d. 2008. The report found that the city added 170,000 new units, or about 6% of its total housing stock, during that period. Some more stats:
Most of those new units were in large buildings: 46% were apartments in multifamily buildings and 14% were condominium units, while 40% of the new units were built as either single family homes or in 2-4 family buildings. The report documents an increase of 7% annually in building activity between 2000 and 2003, and then more rapid growth of 17% annually between 2003 and 2006. Building activity peaked in 2007 with 25,659 new units completed—the most in a single year in the past 20 years.
That's a heck of a lot of new housing, but we've got nothing on the nation's capital:
While this growth spurt is impressive, the report finds that New York City's boom was more modest than other metropolitan areas with more available land and lower costs of building (in particular, Washington D.C., Miami and Las Vegas saw more dramatic ramp-ups). Since 2007, the report finds a modest decline in certificates of occupancy (the primary measure of completed building activity), which fell from the 2007 high to 22,650 in 2008 and to 18,928 in 2009. However, the decline in building permits (a measure of future building activity), has been dramatic: in 2009 new permits fell by 90%, from 30,947 in 2008 to 3,275, a lower number than at any time since 1992.
Interesting findings, but what does it all mean? What are the consequences? "The consequences of this building boom are still unknown," according to the Furman Center's faculty director. Well then! Guess we'll just study this chart and hope there's a quiz later:
Copyright CURBD