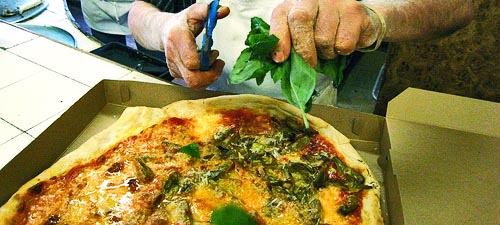 One of New York's legendary pizzerias is expanding, but not in the city. Domenico DeMarco Jr., son of Brooklyn's Di Fara pizzeria pie master, Domenico DeMarco, will be opening a new pizza shop in the Summerlin area of Las Vegas in January 2011. The new restaurant will be called Dom DeMarco's Pizzeria & Bar.
"I've been there my whole life," DeMarco Jr., 42, said of his father's shop. "I'm taking what we're doing and putting it out there."
DeMarco Jr. said he is planning to open other franchises in California, Texas and Arizona, and eventually another in New York. However, all the hubbub about the pizzeria exporting its brand out of the area has DeMarco thinking he might have bring Dom DeMarco's Pizzeria & Bar to New York sooner than later.
"I would never leave New York. I love New York," he said, adding that he'd eventually like to open up a new shop in Manhattan.
Will they be able to replicate experience out West?
Save for the fact that DeMarco Jr.'s 74-year-old father will not be the one making the pies, yes, he said. But, the Western locations promise to be in more elegant settings.
The rustic Midwood, Brooklyn eatery was founded in 1963 and has received rave reviews in New York magazine, The New York Times for its fresh ingredients and the family's old-school style of pizza-making. DeMarco Jr. is nostalgic about the days when only foodies and locals knew about his family's business.
The new pizza shops will use the same ingredients that they use at Di Fara.
"We're taking pain-staking methods to do this," he said. He noted that he sent water samples to a lab for analysis so that they can replicate New York City's water in other locations.
There will be a few major differences, however. The new spots will have expanded menus – with salads and pastas -and a full bar. While Di Fara pizzeria in Brooklyn, has a Baker's Pride gas oven, the spinoffs will have a gas oven that mimics wood-burning appliances, according The New York Post.
DeMarco also noted that while in New York City, where the cost of living is high, they can sell slices for $5, he might have to lower prices in less expensive cities.