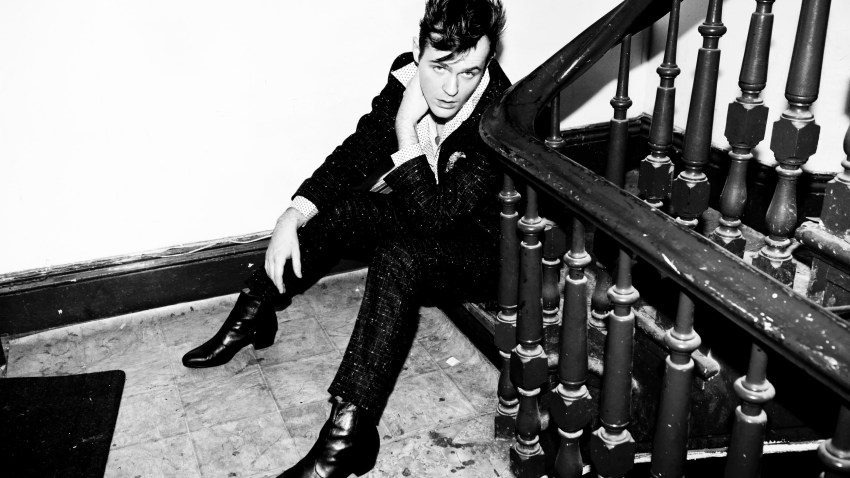 New York garage rock apostle Devin has already gained a local reputation for his high-energy stage show and denim-clad tunes. But if his new album Romancing or single "Masochist," the video for which you can watch below, are any indication, then all the good times have come at a cost.
"All the songs on Romancing try to frame 'love' as equal parts the best and the worst, or something like that. 'Masochist' might be the closest I got. I had the main melody banging in my head. Then I got the word, 'Masochist,'" he tells Nonstop Sound. "Then I had the chance to actually fall in love and live through the absolute horrors and joys of it all. And that gave me enough images to write into the song."
Romancing is in stores this week via the New York label Frenchkiss, and Devin will be celebrate the occasion Monday night at the Mercury Lounge. Devin, whose real name is Devin Therriault, had been gigging around town between shifts at a warehouse, and eventually one of his home recordings came to the attention of Frenchkiss owner Syd Butler, who has previously helped put The Hold Steady and The Antlers on the map.
"I woke up one morning and there was this Myspace message from 'syd-frenchkiss records.' I read it 20 times," he says. "I Googled Syd and the label and realized it wasn't spam. I wasn't even pursuing labels. I was just making songs in my room out of pure boredom. But Syd responded to my recordings and it's been a real partnership since then."
Devin's music is too fast and committed to come off as retro, but it's undeniably filled with sonic quote marks from punk forebearers like The Ramones and New York Dolls. It's not the most original sound out there, but it is a lot of fun, and to Devin that's enough.
"I pretty much exclusively listen to music that's before my time. My Johnny Thunders obsession is right under Iggy Pop. I like that punk idea of stripping the sound down and going back to early rock and making it relevant," he says. "I love all the references in the songs, whether it's a stolen progression or lyrical reference. It gives the songs more weight."