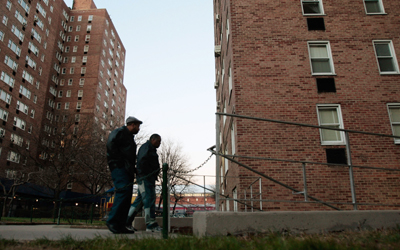 Brooklyn is getting some hot, high-end, ultra-mod boutique hotel action. How hot? We're talking "polycarbonate panels, clear glass, expanded metal mesh, and stucco cladding," baby, the better to "create a varied composition of translucency, transparency, reflectivity, and opacity, qualities that change over the course of the day." Just look at the computer rendering. How sexy is that? Burn, Lower East Side! Burn, Chelsea! We've got it all, right here in Brooklyn!
Where will the Linden be located, exactly? Um, on Sutter Avenue. What, you don't know it? You do! You've probably driven by it on your way to JFK. It's one of those wide, European-style boulevard avenues. No? Doesn't ring a bell?
OK, listen, the Linden will be in East New York. Yes, that East New York. The architects (via Curbed) are willing to admit that the neighborhood is "rough-edged" and they'd "never thought of working in this section of Brooklyn" (maybe because more than half of East New York's residents live below the poverty line?) but they remain convinced that the hotel, which is expected to be completed by the end of 2009, will be a big draw for "neighborhood vacationers" (is that a euphemism we don't know about?). Also, they add, "if you share a vision with your client and your contractor, you can build good architecture almost anywhere." Which we think is architect-speak for "Not our problem if someone was dumb enough to try gentrifying East New York in a recession. Besides, we already spent the advance."
Copyright FREEL - NBC Local Media