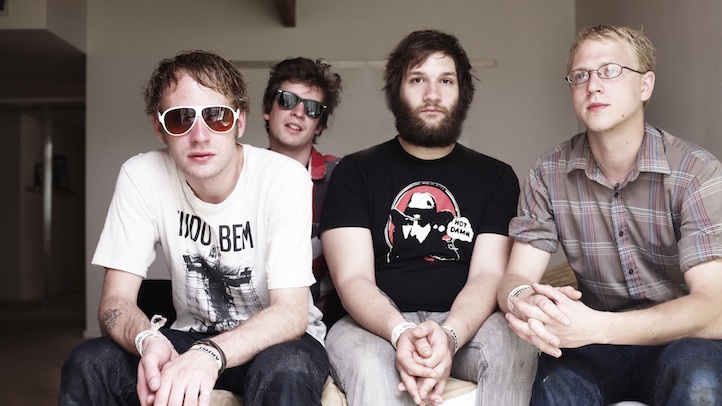 "Rock music" has become so diluted with variations on the form that it's become a bit impossible to find a genuinely foot stompin', hard drinkin' band like Creedence Clearwater Revival.
Everybody's got synthesizers now. But there are a few bands working today that take the shambolic, raucous pleasure of a band like The Replacements and throttle it to the hilt, and Deer Tick is one of them.

Formed by John McCauley in Providence, R.I., as a solo project in 2004, Deer Tick morphed from an acoustic folk project into the boozy, barnstorming rock band it is today over the course of three excellent albums (War Elephant, Born on Flag Day, and The Black Dirt Sessions) that led up to last year's Divine Providence.
War Elephant and Flag Day both have a more raw, hard-bitten sound to them, but The Black Dirt Session saw the band branch out with the piano-driven "Christ Jesus" and the jammy, meandering "Mange."
Live, Deer Tick gradually became a powerhouse group that included a second guitar in former Titus Andronicus guitarist Ian O'Neil, bassist Christopher Dale Ryan (whose sawing bowed upright bass firmly anchors the Black Dirt Sessions standout "20 Miles"), hard-swinging drummer Dennis Ryan (who also sings Divine Providence's ode to John Wayne Gacy, "Clownin' Around"), and keyboardist/saxophonist Rob B. Crowell.
Divine Providence saw the groups swing back towards more rudimentary territory, with straightforward, foot-on-the-gas rockers like "Let's All Go to the Bar" and "Main Street," (the latter of which neatly appropriates the classic "Be My Baby" drumbeat for its intro.)

Opening is country/Americana/messy rock god Johnny Corndawg, whose music you can check out here. As his website reads, Corndawg was "born in Montana, raised in rural Virginia, Corndawg has been touring on his motorcycle since he dropped out of school in 2001," which makes him the perfect compliment to Deer Tick, which was formed after McCauley spent years hiking across the U.S.

The whole thing takes place in Red Hook Park, at 7.pm. on Thursday. It's free, and it's outdoors, and it's gonna be great, so you officially have no reason to not come out.