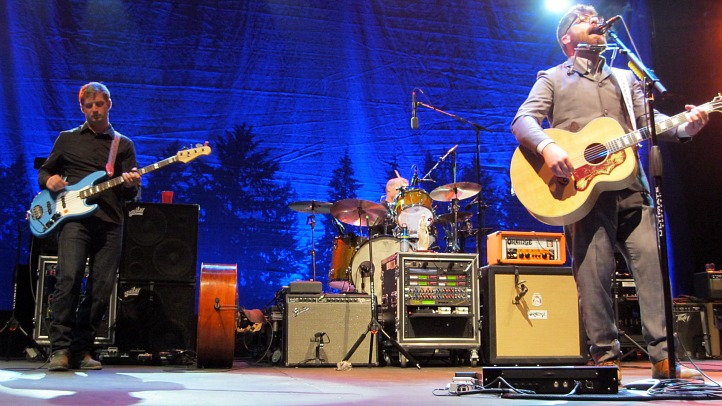 The Decemberists, for all of frontman Colin Meloy's verbose milieu and conceptual bombast, are a remarkably prolific outfit: in one decade of activity, the Portland folk outfit has released six studio albums, four EPs, and now, their third live session. The band hit an L.A. studio in between the two North American legs of their Popes of Pendarvia World Tour to record a catalog-mining iTunes exclusive session due out Aug. 2.
The eight-song live session reaches all the way back to the band's infancy, with "Shiny," off their 2001 debut EP 5 Songs, and features covers of Leonard Cohen's "Hey, That's No Way to Say Goodbye" and the Fruit Bats' "When U Love Somebody," the latter of which has become a frequent highlight of their recent tour dates. The session also features tracks from The Hazards of Love, The Crane Wife, and 2011's The King Is Dead.
The album is currently available for pre-order on iTunes, and one track, the somber King Is Dead cut "June Hymn," is on sale now.
The Decemberists--iTunes Session
1. Calamity Song
2. Hey, That's No Way to Say Goodbye (Leonard Cohen cover)
3. Shankill Butchers
4. June Hymn
5. This Is Why We Fight
6. Shiny
7. The Hazards of Love 4 (The Drowned)
8. When U Love Somebody (The Fruit Bats cover)