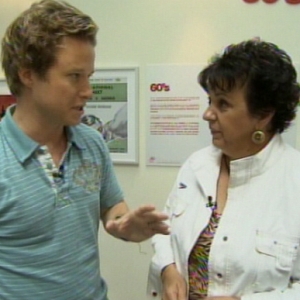 Michael Phelps might have the world's attention for becoming the winningest Olympian in the history of the games after he scored eight gold medals 2008 Beijing Games, but his mother Debbie Phelps has heads turning when it comes to style.
Debbie cheered her son to victory from the stands wearing in head-to-toe Chico's, including Chico's signature Travelers Collection, which she purchased her favorite Chico's store in Towson, Maryland.
"As an educator, single mother and her son's biggest champion, Debbie has been an inspiration to us, and to our customers all over the world," Michele Cloutier, Chico's Brand President, said in a statement released exclusively to Access Hollywood."
[ Access Extended: Mama Phelps (August 18, 2008) - Play it Now ]
It appears Debbie's Olympic wardrobe has caused quite a stir with fans hoping to emulate her fresh style.
"Ever since Debbie first wore Chico's in Beijing, our phone lines have been ringing off the hook," Cloutier said. "Women everywhere want to know how to get Debbie Phelps' look!"
Related Content from AccessHollywood.com:
Michael Phelps - Check Out the Photos
Access Extended: Michael Phelps' Quest For Gold, Part I - Play it Now
Access At The Beijing Olympics: Week Two - Check Out the Photos

Copyright NBCAH - Access Hollywood